Two women and two male passengers who reached Ahmedabad International Airport from Dubai on Friday were booked for allegedly assaulting a customs official at the city airport after they were asked to produce bills for the gold ornaments they were wearing. While the women have been let off, the two men accompanying the women have been arrested for allegedly threatening another customs officer.
Case:
An assistant commissioner of Ahmedabad Customs, Minguel Miranda was allegedly slapped by one of the two accused women around 12.30 am Friday when they arrived at Sardar Vallabhbhai Patel (SVP) International Airport from Dubai
Police have booked Naseefa Chauhan, Altaf Chauhan, Heena Kausar Pathan and Firoz Pathan, all residents of Ahmedabad, under Indian Penal Code sections 332, 353, 323, 186, 294 and 506 for causing hurt to deter public servant from duty, assault on public servant to deter him from discharge of duty, causing hurt, obstructing public servant, obscenity and criminal intimidation, respectively
As per a complaint filed by Ahmedabad Customs Superintendent Jyothimohan Dethan, the incident occurred near the "Green Channel" of the airport where scanners and metal detectors are kept
When Dethan asked the two women to produce the bills for the gold ornaments they were wearing, they claimed they didn't have any
He then asked them to step on to the 'red channel' where assistant commissioner Miguel Miranda was present and also demanded that they hand over the ornaments for checking
However, the two women started creating a chaos at the counter
When they were asked not to do so, one of them who was wearing a burqa started abusing Miranda and also slapped him
The other woman too started abusing both the officers
The two men accompanying them threatened Dethan that they will 'see him' once he was out of the airport
K C Rathva, in charge of the Airport police station, said that while the two women were let off, they have arrested the two men who were accompanying them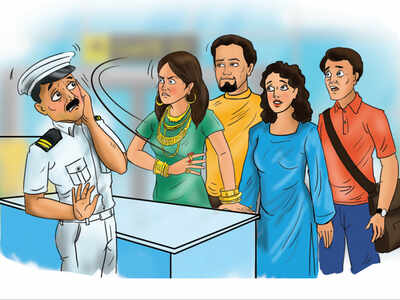 Rathva said,
We have arrested Altaf and Firoz and the possibility of arresting women cannot be ruled out. The gold ornaments which the two women were wearing have been seized by the customs department.

If they produce bills to claim that the same have been bought from Ahmedabad, the ornaments will be returned to them, however, if they purchased it from Dubai, they will have to pay duty on the same. Nonetheless, they will be prosecuted for assaulting officers. 
Dethan, however, refused to comment on the value of the ornaments that were seized by the customs from the two women.
ALSO READ-
https://mensdayout.com/in-the-news/dtdc-metro-free-rides-for-women/
Follow www.mensdayout.com on Facebook Twitter and Instagram