Vanitha Vijaykumar, a well-known actress from the Tamil film industry is in the news after she allegedly beat up her husband and threw him out of the house. The couple recently married few months before, during lockdown.
Background
Peter Paul, a Chennai-based filmmaker, and Vanitha married in June this year after being in a relationship for a long time. This was Vanitha's third marriage, while second for Peter. The marriage was solemnised as per Christian customs.
However, just within four months, the relationship has crumbled and as per reports, Vanitha thrashed her husband and threw him out of the house. Director Ravindra Chandrasekaran confirmed the same to media. He took to his Instagram account and wrote,
Absolutely true, everyone's words have been proved true.
According to media reports, the distance between the couple started growing when Vanitha went on a trip to Goa with her daughter and Paul. This was their first trip after marriage, however, it was alleged that Peter drank a lot of alcohol there, after which the two quarrelled.
When they returned from Goa, Peter's drinking habit continued in Chennai as well, and the two kept getting into fights. This is when Vanitha allegedly thrashed Peter and threw him out of the house, as reported by One India.
In her defense, Vanitha said that after returning, Paul got a call saying that his brother passed away, which made him upset and he wanted to go home. She said that she gave him money for the expenses and now he has been away from for several days. She alleged that he has neither called her, nor attended her calls. Vanitha said he is with his family now and she didn't have a problem even if he goes back to his wife and children. Vanitha added that it seems what his previous wife had said was true about him. She added,
He fully knows how well I took care of him, but it seems he loves liquor than me. It seems, he loves alcohol more than me.
After this alleged incident was reported, the actress also took to twitter and clarified her stance. In one of her tweets, she wrote,
Now I know what it feels to lose in love, but I also know how to move forward and become stronger. Believing in love and being depressed hurts a lot but at one point of time everything becomes numb, it is the most painful to see life end before your eyes.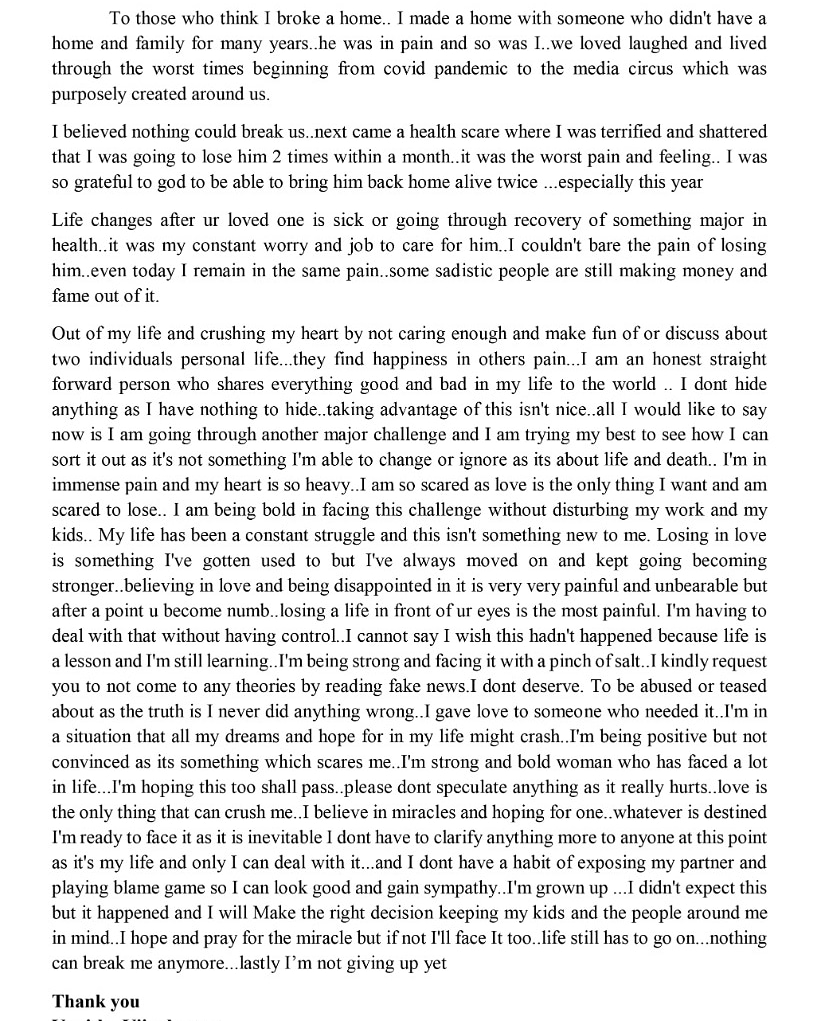 Meanwhile, Paul's first wife Elizabeth claimed that he had not divorced her yet and their separation was in process. In fact, the day the couple got married, Elizabeth filed a case against him accusing they had not yet legally divorced. However, the matter was later settled.
Vanitha is a mother of three who has had two broken marriages earlier. Already there were several talks when the duo married each other in June and it is also said that many well-wishers advised Paul not to get married to her.
Vanitha was one of the contestants on Bigg Boss Tamil Season 3.
ALSO READ –
https://mensdayout.com/in-the-news/shweta-tiwari-divorce-abhinav-kohli/
https://mensdayout.com/in-the-news/eijaz-khan-false-rape-case/
We are on Telegram. You can also join us on our Facebook Group
Join our Facebook Group or follow us on social media by clicking on the icons below
Donate to Men's Day Out!
Blogging about Equal Rights for Men or writing about Gender Biased Laws is often looked upon as controversial, as many 'perceive' it Anti-Women. Due to this grey area - where we demand Equality in the true sense for all genders - most brands distance themselves from advertising on a portal like ours.
We, therefore, look forward to your support as donors who understand our work and are willing to partner in this endeavour to spread this cause. Do support our work to counter one sided gender biased narratives in the media.
To make an instant donation, click on the "Donate Now" button above. For information regarding donation via Bank Transfer, click here.