Ande Ke Funde Gone Too Far!
In an unbelievable incident reported by the UP police, a married woman in Uttar Pradesh's Gorakhpur district eloped with her lover, because her husband refused to give her eggs for consumption. Yes you read that right……!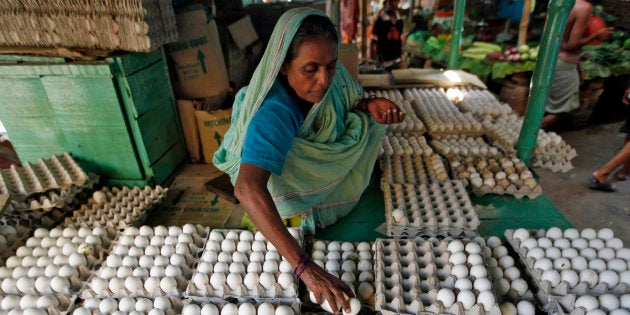 Case:
The husband is a daily wage labourer and reportedly said that he cannot afford to buy eggs every day of the week
He also allegedly said that the wife's paramour knew about her weakness for eggs and the husband's inability to fulfil that need, so he brought them for her daily
The woman reportedly lives in Campierganj and had eloped with her lover four months ago, according to the police
After she returned, she told them that she was upset as her husband did not get her eggs to eat, which she clearly likes a lot
The couple reportedly fought again two days ago for the same issue – EGGS – and the woman ran away again
Her paramour is also missing from his house, and therefore it is being suspected that they eloped together
Surely at the first reading this sounds hilariously funny, but when men leave their wives for such bizarre reasons, the society becomes patriarchal and unfair to women. In yet another incident Men's Day Out reported from Madhya Pradesh, a wife filed for divorce as her husband spent whole day for UPSC Exam preparation. Read Story Below.
https://mensdayout.com/in-the-news/wife-files-for-divorce-upsc-exam/
In all probability, if the Gorakhpur woman is traced by the police, there will be no action on her for deserting her husband and eloping with another man. There is a possibility that she may file for divorce on grounds of domestic violence (for not getting eggs) and perhaps also be rewarded with permanent alimony.
When will our government wake up to such one sided laws? The National Commission For Women would not have spared the husband if deserted his wife for not cooking well or something else. In the absence of a Men's Commission, we all will only read about this story and laugh it off!
#RIPGenderEquality
ALSO READ –
https://mensdayout.com/in-the-news/punishment-for-men-having-extra-marital-affairs-in-uttar-pradesh/
https://mensdayout.com/health-lifestyle/importance-of-eggs/
Follow www.mensdayout.com on Facebook Twitter and Instagram