A senior woman journalist who worked with Times Network has accused a top management employee of sexual harassment during her tenure with the organisation for 12-long-years. Mumbai Police on Thursday booked the official for allegedly sexually harassing the female colleague.
Complaint
In her complaint to police, the journalist said the accused had touched her inappropriately and demanded sexual favours. When she refused to comply, the complainant said, she was sacked. The complainant further said she was sexually harassed from April 2008 to August 2020.
A senior IPS officer said the complainant had approached Bandra police station Thursday, and the case was later transferred to NM Joshi Marg police station. Police have registered a case under sections:
354 (outraging modesty of a woman)
354 (A) (assault or criminal force on woman with intend to outrage her modesty)
354 (D) (stalking)
509 (word, gesture or act intended to insult the modesty of a woman) of the Indian Penal Code
Times Now Statement
Frivolous and malicious allegations have been levelled against our Management by an ex-employee AFTER TERMINATION OF HER SERVICES due to non-performance/Covid related structuring. There have been no complaints of harassment by her against any person during her entire tenure of 12 years. This sudden complaint after her services are terminated is a motivated and malicious action. A complaint has already been lodged by us with the Mumbai police against her for Blackmail and Criminal Intimidation.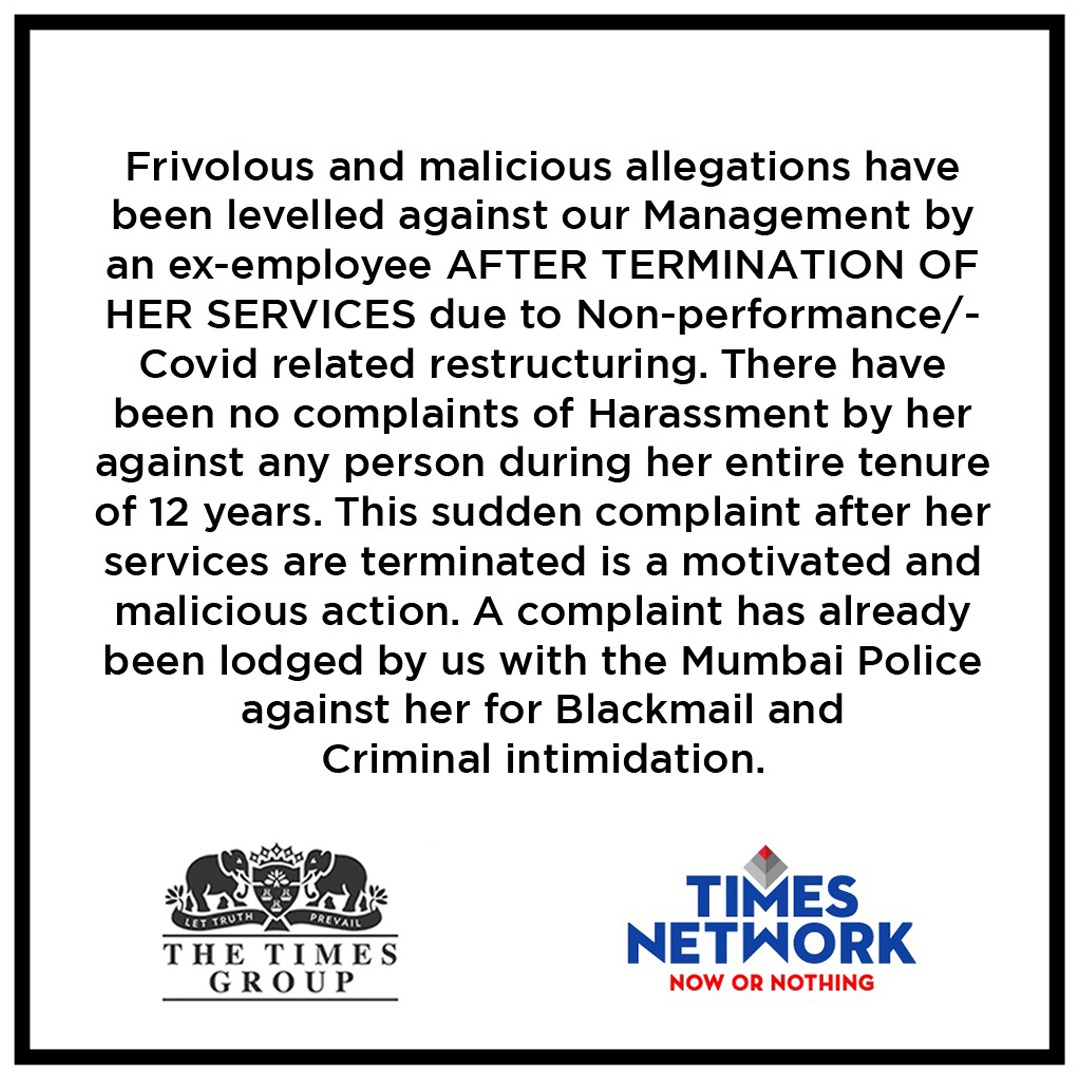 POSH (Prevention of Sexual Harassment Act)
The Ministry of Women and Child Development ("Ministry"), by a Notification dated December 9, 2013 passed the Sexual Harassment of Women at Workplace (Prevention, Prohibition and Redressal) Act, 2013 (the "Act") which became effective from December 9, 2013. The Ministry also made the rules with regard to the same effective from the same date. These rules are called the Sexual Harassment of Women at Workplace (Prevention, Prohibition and Redressal) Rules, 2013 (the "Rules").
Times Now, under Times Network, was the same channel that ran malicious campaign against Delhi boy Sarvjeet Singh Bedi on mere allegations by Jasleen Kaur. Here are the comments and character assassination by two journalists, Arnab Goswami and Pooja Shali, who then worked with Times Group. Bedi was honourably acquitted by court after four years.
https://mensdayout.com/in-the-law/sarvjeet-singh-acquitted/
ALSO READ –
https://mensdayout.com/his-story/swaroop-raj-genpact/
We are now on Telegram. You can also join us on our Facebook Group