As reported by Times Now, Rhea Chakraborty, who was reportedly Sushant's girlfriend, used his credit cards on a Europe tour, sacked one of his bodyguards and even has stakes in the late Bollywood actor's company. According to latest reports, a four-member team has reached Mumbai and is discussing Sushant's case with Mumbai Police. Bihar Police have asked for women constables from Mumbai Police for help in the investigation.
While speaking to media, Patna Central Zone IG Sanjay Singh confirmed,
The FIR has been registered against Rhea Chakraborty under various sections, including abetment of suicide, on the complaint filed by Sushant Singh Rajput's father.
Rhea and five other individuals have been booked under IPC
Section 306 (Abetment of suicide)
Section 341 (Punishment for wrongful restraint)
Section 342 (Punishment for wrongful confinement)
Section 380 (Theft in dwelling house)
Section 406 (Punishment for criminal breach of trust)
Section 420 (Cheating and dishonestly inducing delivery of property)
A few days ago, Rhea had called for a CBI investigation into Sushant's death, tagging Union Home Minister Amit Shah in a post on her social media account. On July 16, Rhea wrote,
Respected @AmitShah sir , I'm sushants Singh Rajputs girlfriend Rhea chakraborty,it is now over a month since his sudden demise I have complete faith in the government, however in the interest of justice , I request you with folded hands to initiate a CBI enquiry..part 1 ..
Part 2.. I request you with folded hands to initiate a CBI enquiry into this matter . I only want to understand what pressures , prompted Sushant to take this step. Yours sincerely #satyamevajayate @AmitShah sir
Respected @AmitShah sir ,
I'm sushants Singh Rajputs girlfriend Rhea chakraborty,it is now over a month since his sudden demise
I have complete faith in the government, however in the interest of justice , I request you with folded hands to initiate a CBI enquiry..part 1 ..

— Rhea Chakraborty (@Tweet2Rhea) July 16, 2020
Rhea had claimed of receiving death and rape threats on social media over Sushant's death, which prompted her to request the home minister for an enquiry to understand what made him take the extreme step.
Amit Lakhani, Men's Welfare Trust, Delhi has accessed the FIR filed by Sushant's family. Lakhani took to Twitter to share,
Family of #SushanthSinghRajput breaks the silence and FIR against #RheaChakraborty filed alleging her connection with the matter. As much as 15 crore transferred from the actor's account which could have indirectly gone to Rhea. Serious probe into this is required now.

Apparently #RheaChakraborty was fine till the time #SushanthSinghRajput was dancing on her tunes, she threatened him of defaming & destroying him when she saw he can't be tamed any further. She's allegedly in possession of crucial documents, jewelry, credit card, laptop etc.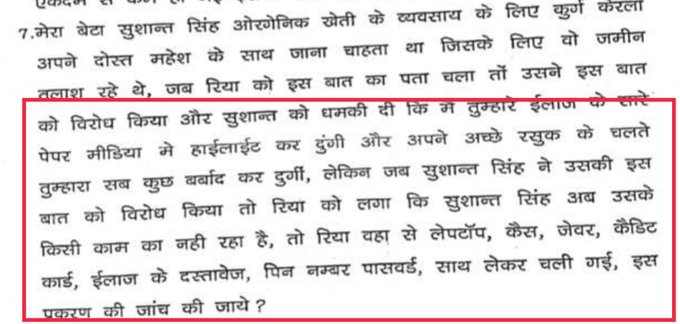 Father of #SushanthSinghRajput alleges that doctors which #RheaChakraborty took him for treatment were hand in glove with her & sudden psychiatric issues in 2019 were planned & planted in his life as a part of greater plan of systematically extorting money from the actor.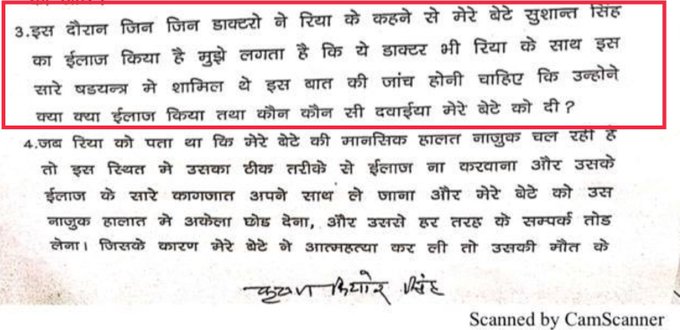 Allegations In Detail
FIR alleged that Rhea took money from Sushant and forced him to take the drastic step
The late actor's father also claimed that Rhea exploited Sushant financially and compelled him to keep a distance from his own family
Sushant's father alleged Rhea of breaching Sushant's trust, cheating him, and driving the actor to commit suicide.
Sushant's father has also claimed that Rhea threatened Sushant of revealing the details of his apparent mental illness and its treatment to the media.
Sushant's father has claimed that Rhea used Sushant's success as a ladder to propel her own Bollywood career
FIR mentions that Rhea had access to Sushant's debit and credit cards and used these to exploit Sushant financially
Rhea intentionally compelled Sushant to feel depressed, and forced him to take the wrong medicines for mental illness
Sushant's father claimed that Rhea threatened to destroy Sushant's career by making public the reports of his apparent mental illness
FIR alleges that Rhea changed his son's mobile number so that his family couldn't connect to him
Sushant's father alleged that Rhea didn't let any of their family members stay close to Sushant
KK Singh said that my son was cheated, he was held hostage
Rhea called Sushant to his home and gave him overdoses and told the media that he had dengue
Rhea has withdrawn about Rs 15 crore from Sushant's account
When Rhea felt that the money in Sushant's account was running out and Sushant was no longer of any use for Riya, she left all her belongings with Sushant's flat
KK Singh said that Sushant told him over the phone that Rhea and her family would not leave him, they would drive him mad
Actor's father alleged that Sushant feared that he would be taken to an asylum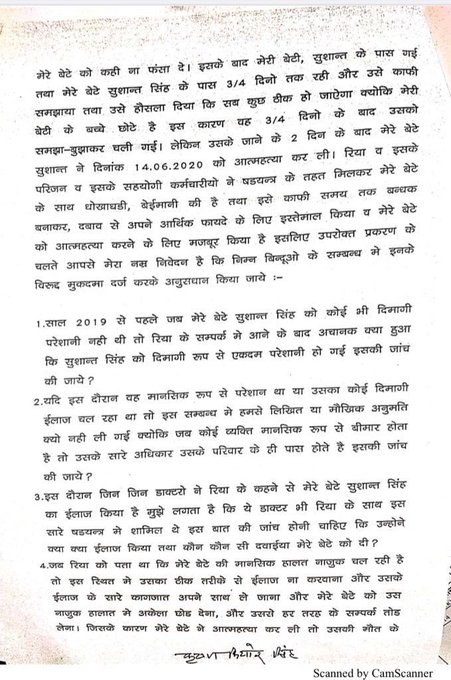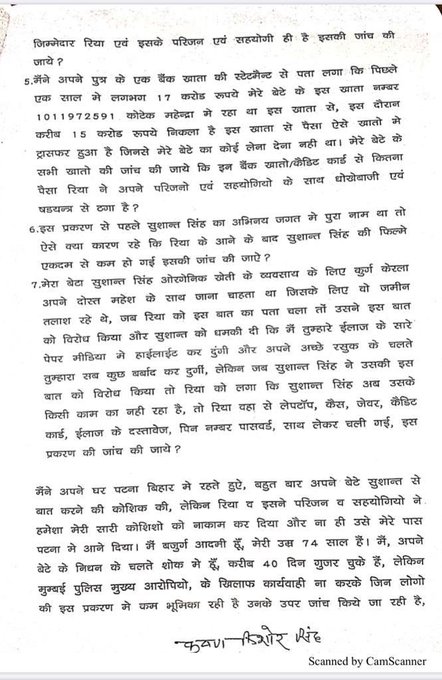 Statements Record Thus Far
The police have recorded statements of over 40 people, including film critic Rajeev Masand, director-producer Sanjay Leela Bhansali, filmmakers Aditya Chopra and Mahesh Bhatt in the investigation so far.
Among others whose statements were recorded in the case at Bandra police station are Rajput's cook Neeraj Singh, domestic help Keshav Bachner, manager Deepesh Sawant, creative manager Siddharth Ramnathmurti Pithani, sisters Neetu and Meetu Singh.
Television actor Mahesh Shetty, casting director Mukesh Chhabra, business manager Shruti Modi, PR manager Ankita Tehlani, actor Rhea Chakraborty, two former employees of Yash Raj Films, among others have also recorded their statement.
ALSO READ –
https://mensdayout.com/in-the-news/sushant-singh-rajput-death-investigation-rhea-chakraborty/
We are now on Telegram. You can also join us on our Facebook Group
Join our Facebook Group or follow us on social media by clicking on the icons below
Donate to Men's Day Out!
Blogging about Equal Rights for Men or writing about Gender Biased Laws is often looked upon as controversial, as many 'perceive' it Anti-Women. Due to this grey area - where we demand Equality in the true sense for all genders - most brands distance themselves from advertising on a portal like ours.
We, therefore, look forward to your support as donors who understand our work and are willing to partner in this endeavour to spread this cause. Do support our work to counter one sided gender biased narratives in the media.
To make an instant donation, click on the "Donate Now" button above. For information regarding donation via Bank Transfer, click here.