Indian cricketing legend Sunil Gavaskar has been caught up in a controversy, which seems to be largely tweaked by feminist media. Gavaskar was in the commentary box during an IPL match between Royal Challengers Bangalore (RCB) and Kings XI Punjab (KXIP) on Thursday evening currently happening in the UAE.
The commentator during the flow of his commentary spoke jokingly about Virat Kohli's batting practice during lockdown. During the match Gavaskar quoted:
Jitni woh practice kare usi se woh behtar ban sakte hai…Ab jab Lockdown tha to sirf Anushka ke bowling ki practice ki unhone 
(The more Kohli practices it will only make him better. During lockdown he was facing bowling from Anushka).
It's stupid to troll legend like Sunil Gavaskar, don't be fool, he refereed Anuskha & Kohli video playing Cricket, fake Feminists sit down & chill…listen this video and judge wisely.. don't play double meaning #SunilGavaskar #AnushkaSharma #Kohli pic.twitter.com/jHBLEMfHeV pic.twitter.com/dyuXF8FRQz

— Aditya raj (@that_iz_aditya) September 25, 2020
Gavaskar was clearly referring to a social media video that had gone viral in May this year. The video showcased Virat and Anushka playing cricket on top of their building terrace.
Finally after soo much long time saw Virat Batting 🥳
Virat Anushka playing cricket in building today🥳
Anushka bowls a Bouncer to Virat😂#ViratKohli #AnushkaSharma #Cricket pic.twitter.com/XFmfs3hiBt

— Virarsh (@Cheeku218) May 15, 2020
Here's how the digital and print media started completely misquoting Gavaskar. The word "gendon" (balls) was incorrectly attributed to the commentator, which gave a double meaning to something he had never uttered.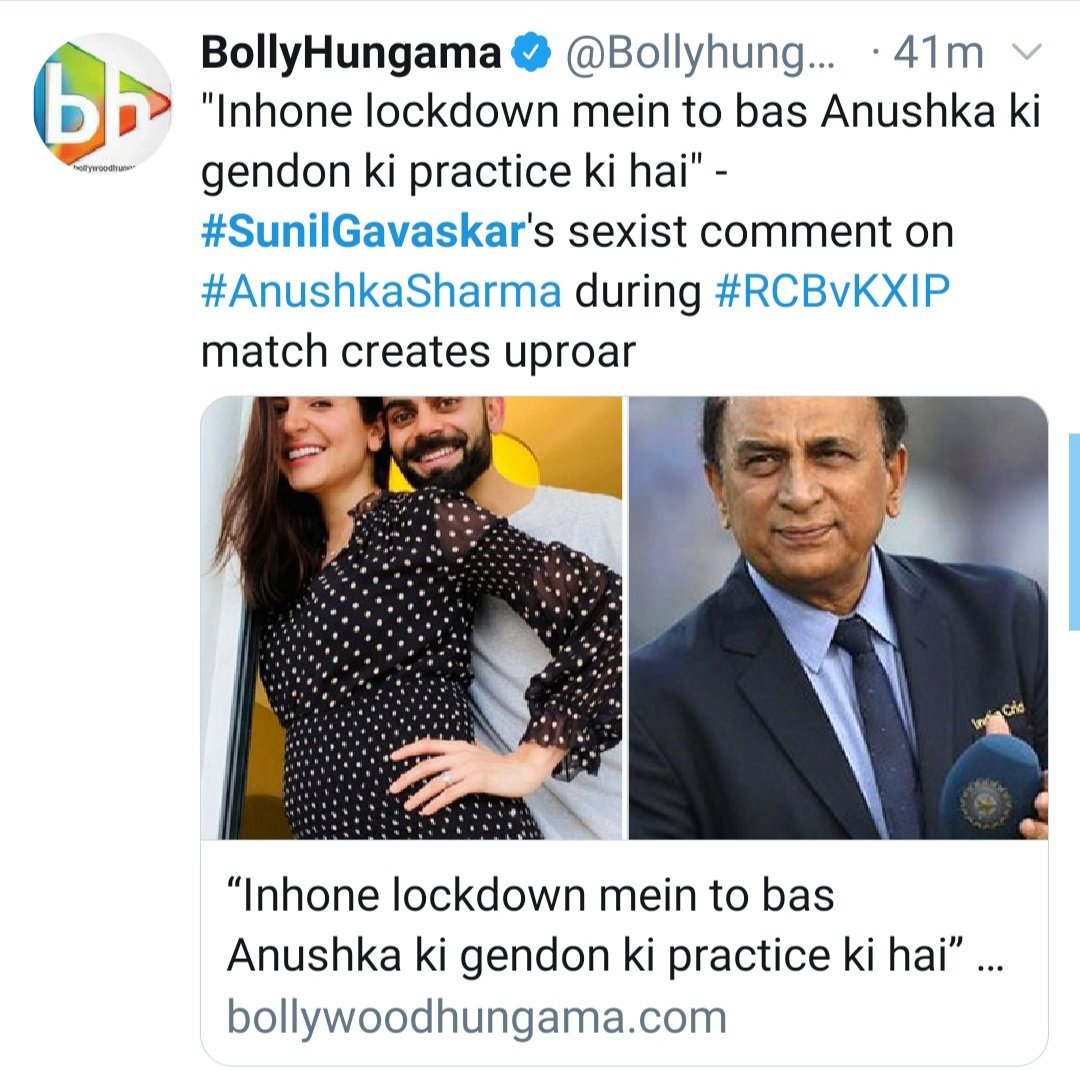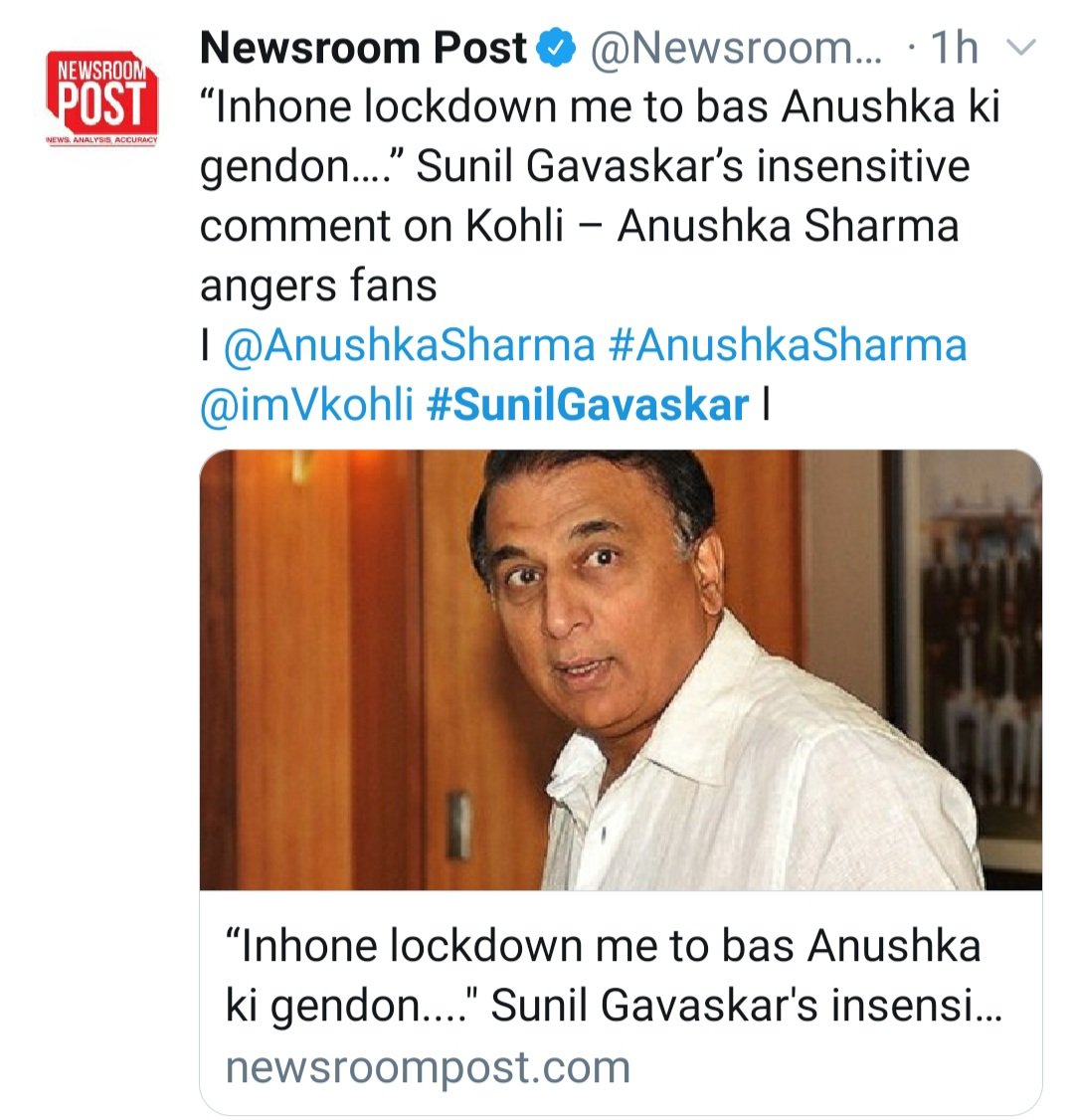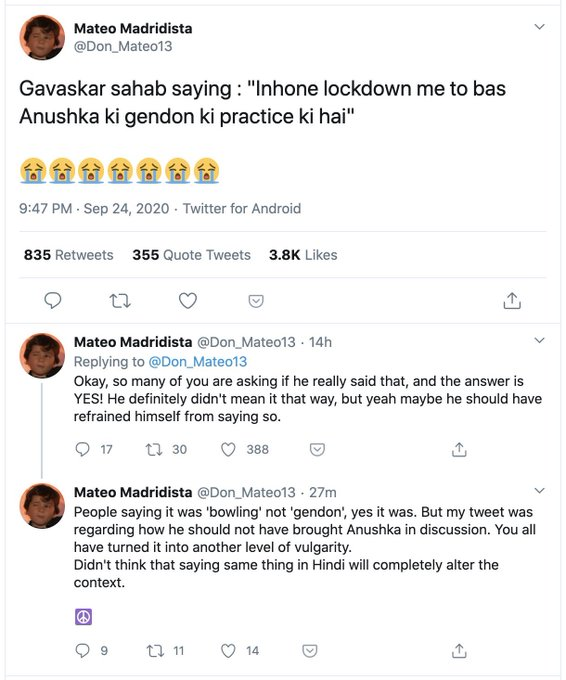 Bollywood actress and wife of Kohli, Anushka Sharma reacted sharply via her Instagram account. She wrote,
That, Mr Gavaskar, your message is distasteful is a fact but I would love for you to explain why you thought of making such a sweeping statement on a wife accusing her for her husband's game? I 'm sure over the years you have respected the private lives of every cricketer while commentating on the game. Don't you think you should have equal amount of respect for me and us?
There has been growing demand of sacking Gavaskar from the commentary box after his alleged 'sexist' comments.
Our Take:
Firstly, we are living in times where any comment which feminists think is misogyny, is blown out of proportion
Over the years, we have seen lighter comments coming from the commentary box which have cheered fans in either situations – when a player is doing well or not living upto expectations
There is nothing sexist about the above statement since Gavaskar clearly made the comment during the flow of the match and not particularly when Kohli got out
Under no circumstances he was ridiculing Ms Sharma for her husband's alleged poor performance
While Kohli dropped two easy catches of centurion KL Rahul in the match, he failed to make a mark with his willow and was dismissed off just one run
Many in the social media are calling this a PR stunt by the Bollywood actor trying to cover up poor performance of her hubby Virat Kohli
Coming to media – Time and again we have seen complete misrepresentation of facts and quotes, especially when the same has to be linked with sexism and misogyny
Most of the times, media hires interns who blindly copy paste one particular remark from other portals, without verifying actual videos or facts
Neither the editors believe in rechecking before the same is published
MDO too got it wrong this time, however, soon we rectified the quote by deleting and re publishing this detailed article
Reputation of any man takes decades to be built, however, one incorrect quote on alleged sexism, has almost tarnished brand Gavaskar today
Here's how social media has come out in support of the legend!
Kirit Azad took to twitter in defence of Gavaskar and wrote,
Trolling the legend #SunilGavaskar is not in good taste @AnushkaSharma
You're taking this too far. @imVkohli is adored by all. Relax and enjoy.
Sunny bhai has never hit anyone below the belt. Don't make it feminist or personal issue. It has been my honour to have played with him https://t.co/CyOlwd5ajJ

— Kirti Azad (@KirtiAzaad) September 25, 2020
#SunilGavaskar is unnecessarily dragged in the controversy. Plz listen to the commentary & hear his exact words.He mentioned about the viral video of #AnushkaSharma.Why do digital news media platforms acting like a headless chicken & writing crappic.twitter.com/rvbSdl821E#IPL2020

— Kumar Manish (@kumarmanish9) September 25, 2020
Mr #SunilGavaskar simply commented on a video in circulation. That too univocally, no pun/innuendo intended. Pl spare the legend.
— THE SKIN DOCTOR (@theskindoctor13) September 25, 2020
It's stupid to troll legend like Sunil Gavaskar, don't be fool, he refereed Anuskha & Kohli video playing Cricket, fake Feminists sit down & chill…listen this video and judge wisely.. don't play double meaning #SunilGavaskar #AnushkaSharma #Kohli pic.twitter.com/jHBLEMfHeV pic.twitter.com/dyuXF8FRQz

— Aditya raj (@that_iz_aditya) September 25, 2020
Well #AnushkaSharma has every right to take offence but to me what #SunilGavaskar said was neither crass/ crude and importantly not sexist.. https://t.co/lNF56Bgkxs

— Preeti Choudhry (@PreetiChoudhry) September 25, 2020
One twitter user misheard something that Sunil Gavaskar said. His tweet goes viral and now everyone believes his tweet is the truth.

If this is the situation when we have all the proof on video, imagine how history has been written for centuries.

— Sagar (@sagarcasm) September 25, 2020
Dear @AnushkaSharma Before making any statement you should verify each and every word or context with which something was said. Neither he make any obscene comment nor accused you for Kohli's performance. Please don't drag him unnecessarily in the controversy. #SunilGavaskar

— Priya Agle (@PriyaAgle) September 25, 2020
#SunilGavaskar : वो जितनी practice करें उसी से वो बेहतर बन सकते हैं वो जानते हैं। बाकी lock down था तो सिर्फ अनुष्का की bowling की practice की उन्होंने। वो वीडियो देखी है। तो उससे तो कुछ नहीं बनना है।

Other Voice: हाँ उनके अपार्टमेंट में वो practice

WHAT'S WRONG IN THIS? pic.twitter.com/MsbSIAIB3y

— Deepika Narayan Bhardwaj (@DeepikaBhardwaj) September 25, 2020
Gavaskar: Virat has played only Anushka's bowling during #Lockdown. We've seen that video. Thats definitely not going to be sufficient.

Now #Feminists r opposing #Gavaskar saying, why a wife is being called out for husband's performance in a game.

Well, remember #DeepakKochhar? pic.twitter.com/Bf92wQknnC

— Amit Deshpande (@antidespondent) September 25, 2020
ALSO READ –
https://mensdayout.com/in-the-news/yuvraj-singh-zoraver-singh-akanksha-sharma/
https://mensdayout.com/in-the-social/virat-kohli-rohit-sharma-rift/
We are now on Telegram. You can also join us on our Facebook Group