In a recent development in Sunanda Pushkar's death case, Delhi police has urged the court to frame charges against her husband Shashi Tharoor under :
Section 498A (Husband or relative of husband of a woman subjecting her to cruelty)
Section 306 (Offence Of Abetment To Suicide) of the IPC
Sunanda's brother Ashish Das's  has given a statement in Delhi Court saying,
She was happy with married life but during her last days she got very upset, but she could never have thought of committing suicide.
Delhi Court will continue hearing the arguments on charges against Congress MP Shashi Tharoor on October 17.
Delhi police urged the court to frame charges against Shashi Tharoor under section 498A (Husband or relative of husband of a woman subjecting her to cruelty) and 306 (Offence Of Abetment To Suicide) of the IPC. https://t.co/qSTuphVbJX

— ANI (@ANI) August 31, 2019
V Pahwa, Shashi Tharoor's lawyer said arguments made by prosecutor are contrary to the bare reading of the chargesheet. He read the evidence in bits and pieces and tried to connect with the charges proposed by him, contrary to the settled principles of law. Pahwa argued,
He didn't read opinions of experts who conducted psychological autopsy, who held that it's neither a case of homicide nor suicide but due to some unidentified biological reasons. If there is no evidence of suicide where is the question of abetment to suicide.

I will argue on the next date, rebutting on each & every point. I can say that every bit of evidence collected by the SIT speaks just the opposite to what the Prosecutor has argued today.
Background To The Case:
Sunanda Pushkar was found dead under mysterious circumstances in a Delhi hotel in January 2014
The Delhi Police told court that she was allegedly suffering from mental agony because of a tense relationship with her husband Shashi Tharoor
The police has accused Tharoor of abetting the alleged suicide of his wife Sunanda Pushkar
During arguments on framing of charges against Tharoor, Special Public Prosecutor Atul Shrivastava mentioned in the court that Pushkar was not only disturbed because of her fights with her husband but also due to his relation with Pakistani journalist Mehr Tarar
While justifying its charge against Tharoor, the prosecution told the court that the former Union minister had addressed Mehr Tarar as "My darlingest" in letters written to her
As per the post-mortem report, the cause of Pushkar's death was poisoning, the probe agency told special judge Ajay Kumar Kuhar
It also added that there were 15 injury marks on various parts of her body.
The prosecutor further noted that the statement as given by Pushkar's friend and journalist Nalini Singh also confirmed that the relation between Sunanda Pushkar and Shashi Tharoor was strained
Tharoor is, at present, on bail in the case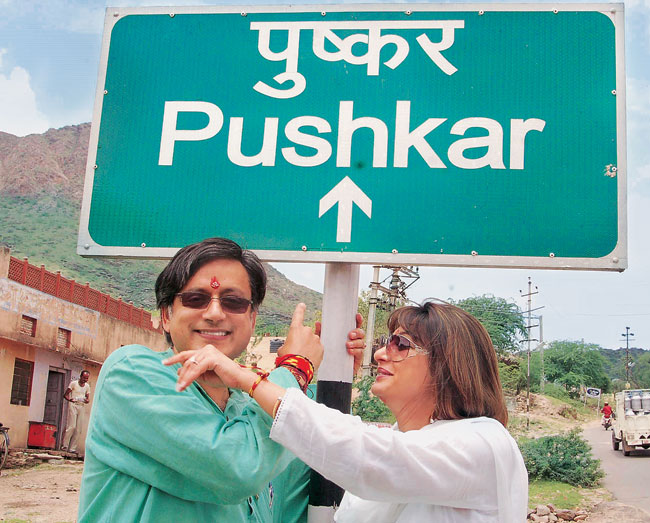 Kerala MP has consistently denied all charges, calling them preposterous and motivated.
On May 14 last year, Tharoor said in a tweet,
I have taken note of the filing of this preposterous charge sheet &intend to contest it vigorously. No one who knew Sunanda believes she would ever have committed suicide, let alone abetment on my part…If this is conclusion arrived at after 4+ yrs of investigation it does not speak well of the methods or motivations of the Delhi Police….!
1/2 I have taken note of the filing of this preposterous charge sheet &intend to contest it vigorously. No one who knew Sunanda believes she would ever have committed suicide, let alone abetment on my part. If this is conclusion arrived at after 4+ yrs of investigation, (contd.)

— Shashi Tharoor (@ShashiTharoor) May 14, 2018
ALSO READ –
https://mensdayout.com/in-the-news/false-dowry-harassment-charges-2/