Controversy Queen Rakhi Sawant is back in the news and this time she claims to have actually got married.
It is said that she got hitched to her NRI boyfriend Ritesh in a secret ceremony at JW Marriott in Mumbai. On July 30, pictures of Rakhi Sawant, dressed as a bride surfaced on the internet. However, initially Rakhi denied the rumours and said that it was just a bridal photoshoot. Later, the woman who made item songs immensely popular in bollywood, opened up about her marriage which left everyone……..well almost shocked.
Now that Rakhi has confirmed that she has married her NRI boyfriend, her ex-flame Deepak Kalal has come out in the open to demand Rs 4 crore claiming that she had ditched him.
Deepak took to Instagram to share a video where he can be heard saying,
Rakhi Sawant… ye mangalsutra dekh rahi hai aap? Yahi hai jo tum mere gale me fasi thi and ye jo tumne chupke shaadi ki hai na, kya boli thi media ko.. ki mai Deepak Kalal ke sath shaadi karungi? Kitne rupaye liye the tumne mujhse? Pure 4 crore..kya kiya tune? Kha gayi?

Rakhi Sawant, can you see this thread in your neck? You have now told media that you are secretly married………so do you remember you had announced that you were going to get married to me? How much money you took from me? Full Rs 4 crore….what did you do with it? Gobbled Up?
He further threatened her to return his money within four days or he would beat her on live video. He captioned the video as,
Rakhi Sawant Dawda Dawda ke loonga…. Mere Hatte Na Chadio…. (I'll make you run for my money)
Watch Video
View this post on Instagram
Rakhi responded with a video too. She looked furious than ever, offended as Deepak mentioned of her husband. She said,
I will find you, and will beat the shit out of you and I will kill you with my hidden trident.
She further calls her husband for help…
View this post on Instagram
Revealing details about her husband earlier to Spotboye, Rakhi Sawant said, that her husband was an NRI from the UK and had already left India after marriage. She is due to join him as soon as her visa is approved. She also claimed to continue work in India and also perhaps produce TV Shows here.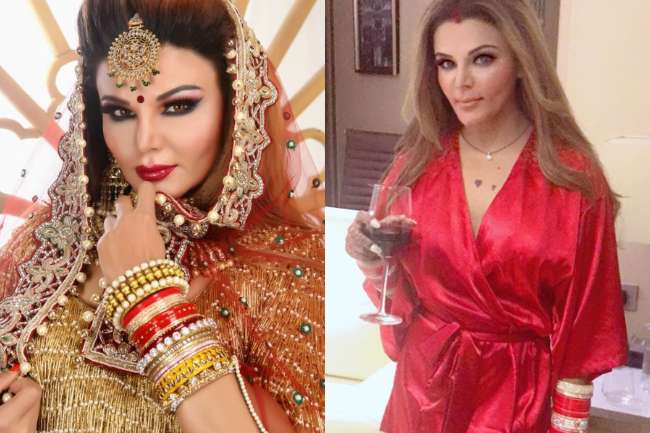 Sawant boasted that Ritesh had been her fan ever since he saw her first interview with Prabhu Chawla (Editorial Director of The New Indian Express). After knowing him, she said to have prayed very hard to 'Jesus' that she must become his wife. She concluded,
Woh khawish toh poori ho gayi (This wish has come true). God has been kind to me so far.
ALSO READ –
https://mensdayout.com/in-the-news/mission-mangal-trailer/
https://mensdayout.com/in-the-news/section-375-akshaye-khanna-the-film/