"I Will Not Bear You Daughters"…..Did that phrase shock or anger you? Everytime you visit a gynaecologist in India, you will see a big board clearly stating:
"Disclosure of Sex of Foetus Is Prohibited Under The Law"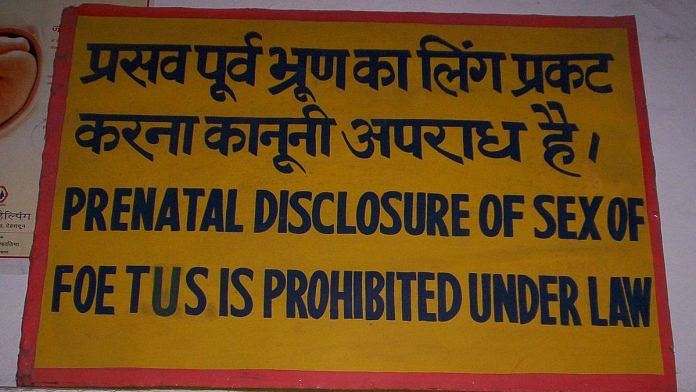 The Pre-Conception and Pre-Natal Diagnostic Techniques (Prohibition Of Sex Selection) Act​ (PCPNDT) Act was enforced in 1994 as a means to outlaw and reduce the number of sex-selective abortions and female foeticide. In 2003, it was amended to bring ultrasonography within its ambit as a means of sex determination.
If a poem or art of work titled "I Will Not Bear You Daughters" would have been published, and selectively promoted by mainstream media with or without deeper context, by now, the book would have been banned and the author would have been facing charges under the relevant section of PCPNDT Act. However, as a reverse, we came across Feminist Author Usha Akella's new book of poetry which is being sold on Amazon. As per an article published by Moneycontrol.com.
"Feminist poet Usha Akella's book 'I Will Not Bear You Sons' is a scathing indictment of patriarchy"
"The title poem I Will Not Bear You Sons in Usha Akella's new book of poetry powerfully lays bare how cultural preferences for male heirs has led to rocketing rates of female foeticide in India, and how women are forced to co-opt into a system that devalues them.
The award-winninga US-based author's collection of poems, published by the feminist publishing house Spinifex Press, is an indictment of cultural traditions rooted in patriarchy while also evocatively expressing the power of the feminine.
"My book is trying to convey the message that women are united in their struggles irrespective of caste, community, class, race and nation. In drawing out issues from various cultures, I've tried to highlight the universality of patriarchy. The issue is the same – the devaluing of the female sex, status and dignity," says Usha, who is the founder of Matwaala, the first South Asian diaspora poets festival in the US. She has authored six books of poetry, and scripted and produced two musical dramas."
Her new poems aim to strike at the root of ancient patriarchal systems that see the girl child as a burden on families. The title poem, which runs into many pages, describes a typical family scene in India where the daughter-in-law is constantly under pressure to bear sons, until her rage erupts."
Excerpt from the poem, "I Will Not Bear You Sons":
Sir, no Sir, I will not give you sons,
I will abort every male fetus I bear,
I will live to ensure there are no more sons,
I will live to see your bloodline cross over
with you to the other side,
now the blessing from your lips is your execution.
Men's Day Out pointed out the hypocrisy in this poem, that proudly promotes murder of male fetus, in the urge of encouraging birth of girl child. We took strong objection to the such choice of words, which will be read and consumed by several young moms and school going girls globally. While MDO completely supports women empowerment in its true sense, we do object the belittling and almost promoting murder of a male child. 
Several social media users reacted to the excerpts of the poem. Since many also questioned the publisher, Spinifex Press, for allowing such content in the name of equality, the publisher has now shared their statement on this matter. The same reads as:
Statement from Spinifex Press* Men's rights are alive and well in India. #WeStandWithUshaAkella

We are currently being subject to a mass outpouring from Men's Rights Activists who have targeted Usha Akella's book I Will Not Bear You Sons and placing one star reviews on the Amazon India website in protest of its publication. #WeStandWithUshaAkella

MRAs have taken exception to a line quoted in online book reviews (regarding aborting male fetuses) and have not looked at the poem in its full context. #WeStandWithUshaAkella

If they had looked at the context, it is the speaking character answering her tyrannical father-in-law who wants the speaker to have only sons. #WeStandWithUshaAkella

Usha's poetry is brave and brilliant. We stand behind this book and trust you will too. #WeStandWithUshaAkella
Ending their statement, Spinifex reposted the link to Amazon from where readers could purchase this book. 
As much as we condemn and oppose the killing of a girl child, we also strongly object when murder of a male child is promoted in the name of art and liberalism. Surely, the numbers of female foeticide are higher than that of male foeticide, but that should not allow anyone to swing the pendulum to the other side or justify killing of any gender. 
If we do not condemn such poems, there will be a time in the next few decades where women would actually kill male fetus remembering these poems that 'were a scathing indictment of patriarchy'. We are already witnessing how murders of husbands are being justified by accused wives in the court of law, after eliminating them when caught in adultery. 
ALSO READ –
Here are some of the reactions on social media:
ALSO READ –
Join us on our Telegram, Facebook Group & Koo App
Join our Facebook Group or follow us on social media by clicking on the icons below
Donate to Men's Day Out!
Blogging about Equal Rights for Men or writing about Gender Biased Laws is often looked upon as controversial, as many 'perceive' it Anti-Women. Due to this grey area - where we demand Equality in the true sense for all genders - most brands distance themselves from advertising on a portal like ours.
We, therefore, look forward to your support as donors who understand our work and are willing to partner in this endeavour to spread this cause. Do support our work to counter one sided gender biased narratives in the media.
To make an instant donation, click on the "Donate Now" button above. For information regarding donation via Bank Transfer, click here.