Time and again Supreme Court has come down heavily on the misuse of Section 498A, where on a mere word of the woman, her husband and his entire family can be arrested on charges of Dowry Harassment. In an embarrassment for the Nationalist Congress Party (NCP), its MLC Vidya Chavan and four of her family members have been booked by the Mumbai police in an alleged harassment case based on a complaint lodged by her daughter-in-law, Gauri.
Case:
Chavan in her detailed interview with ABP News said that her engineer-son Ajit has sought divorce by mutual understanding after their 10-year marriage, however, as a rebound to the divorce notice, his wife went ahead and lodged the police complaint.
Chavan also alleged that Ajit discovered his wife was having extra-marital affairs with four men at the same time, when he happened to check the whatsapp messages on her phone he had taken for repair. He later took legal advice and was told he could file for divorce on grounds of adultery.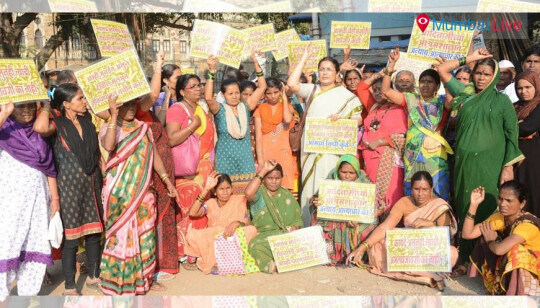 According to Chavan, her son revealed everything to his family and his in-laws on December 7, and was scheduled to leave for Denmark on December 10 for office work. Ajit also sent an email to Gauri stating marriage could not continue like this and thus they should part ways
Now Chavan, her husband Abhijeet, their two sons Anand and wife Sheetal, along with Ajit (the complainant-victim's husband) have all been booked by the Vile Parle Police under Indian Penal Code :
Section 498-A
Section 354
Section 323
Section 504
Section 506
Section 34
……based on the victim's complaint filed on January 16
ALSO READ –
The police however, has not made any arrests in connection with daughter-in-law's complaint and as part of the ongoing investigations, they had summoned Chavan's family members and their statements were recorded on Tuesday.
On her part, Chavan denied all the charges levelled against the family and accused the daughter-in-law of indulging in extra-marital affairs, other acts of omission and demanding money from her and other family members.
Allegations By Wife
The complainant-victim has alleged that her brother-in-law Anand Chavan used to make lewd gestures at her and his wife Sheetal mentally harassed her when she lived with them at their home at Vile Parle. The victim further said that the problems began when she recently delivered a premature female child that died later. The Chavans allegedly wanted a male child since the couple already has a 7-year old girl child.
However, Vidya Chavan has categorically rubbished her daughter-in-laws claims and said everything was good and cordial, until her son found out about his wife's affairs.
ALSO READ –
The MLC has also claimed that her daughter-in-law was not interested in living with her husband and her in-laws. She said that her family was now taking care of the minor granddaughter as well.
Further Vidya Chavan has also alleged that Gauri wanted her husband to pay her Rs 3 crore as settlement, which he refused and thus she filed false cases on entire family.
The NCP leader also says that she herself is a strong advocate for women's rights, but with this experience she affirms that certainly this incident has made her realise the misuse of this law. She concludes that if the husband and wife cannot live together, they should sought it out together.
WATCH CHAVAN'S DETAILED INTERVIEW TO ABP MAJHA (LANGUAGE: MARATHI)
ALSO READ –
https://mensdayout.com/his-story/nri-husbands-trapped-in-false-cases/
https://mensdayout.com/in-the-news/false-charges-on-husband-and-family-faridabad/
https://mensdayout.com/in-the-law/false-dowry-harassment-charges-4/
Follow www.mensdayout.com on Facebook, Twitter and Instagram