Section 498A of the Indian Penal Code was brought into force in the year 1983 with an aim to protect married women against dowry harassment, physical and mental cruelty. However, the law was initially designed in a way, where mere word of the woman was enough for husband and his family to be taken into custody – often without even an investigation. 
Over the years, various high courts and even the apex court have made strong remarks on the rampant misuse of this law by certain 'disgruntled wives' to settle score with their in-laws. These acts of false cases don't remain limited to court orders, but have also resulted in several men, their parents, even siblings, ending their lives after being implicated in false criminal cases by women. 
About the Law
Section 498A of the Indian Penal Code says: Husband or relative of husband of a woman subjecting her to cruelty. – Whoever, being the husband or the relative of the husband of a woman, subjects such woman to cruelty shall be punished with imprisonment for a term which may extend to three years and shall also be liable to fine. Explanation.—For the purpose of this section, "cruelty" means—

(a) any wilful conduct which is of such a nature as is likely to drive the woman to commit suicide or to cause grave injury or danger to life, limb or health (whether mental or physical) of the woman; or
(b) harassment of the woman where such harassment is with a view to coercing her or any person related to her to meet any unlawful demand for any property or valuable security or is on account of failure by her or any person related to her to meet such demand.
Having given the above background on Section 498A, Faridabad Police handle posted the below tweet on Sunday evening. The tweet read:
Same Story

Marriage Happened

Couldn't Get Along

Did Not Sustain

Then came explosion

A Dowry Case Was Obvious 

When In-laws refused to entertain tantrums, how would courts give in?

Found after many years

Now will have to take pheras (wedding ceremony) of the courts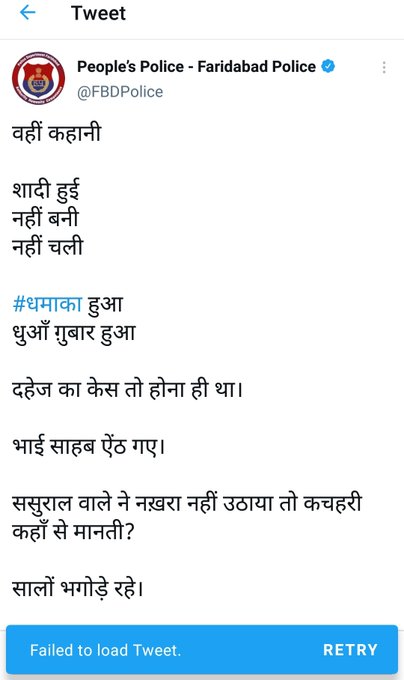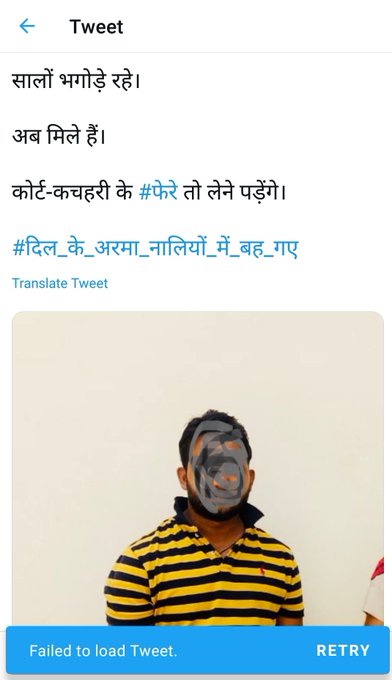 Without getting into the merits of the case, Men's Rights Activists called out this insensitive tweet, especially because it came from an official police handle. 
Amit Lakhani, President – Men Welfare Trust, said:
This tweet by @FBDPolice which I found not just extremely insensitive & irresponsible but also deriving sadistic pleasure of the fact that dowry cases are filed at the drop of the hat if the marriage doesn't work for whatever reasons, the tweet has been deleted. 
Amit also tagged Commissioner of Police, Haryana and suggested,
@opsinghips @police_haryana With our team of @SFFNGO @MenWelfare I'll be happy to conduct a gender sensitization program for officers handling matrimonial cases/ gender based crimes. Looking at the thought process behind such tweets, it seems this is the need of the hour.
Lakhani also said that when a verified handle of police department puts out such a tweet, its speaks volume about the ground reality of Anti-Dowry laws in India. 
@FBDPolice tweets "शादी हुई, नहीं बनी, नही चली …. दहेज का केस तो होना ही था" It tells so much about the ground reality of anti dowry laws in India. Just about anything between the couple turns into a dowry case when the marriage is falling apart
Another social media user named @parth_pandya112 wrote,
This proves that case is fake every thing can be termed as dowry by police now a days
Later, the original tweet was deleted and another tweet on the same matter was posted which read:
Yellow hawai chappal, blue jeans and a yellow-black zebra T-shirt. Dowry seeker arrested after several years. Somewhere there is a celebration of happiness while somewhere there is a wave of sorrow. How about this?
In its recent
order
dated January 2021, the Allahabad High Court directed the Police authorities to desist from making automatic/ routine arrests, especially in dowry cases (498A IPC), and strictly comply with the pre-conditions laid down under Section 41A of CrPC.
Men's Day Out refrains from being judgemental whether the accused husband is guilty or not. However, here are some of the reactions posted by netizens on the subsequent tweet: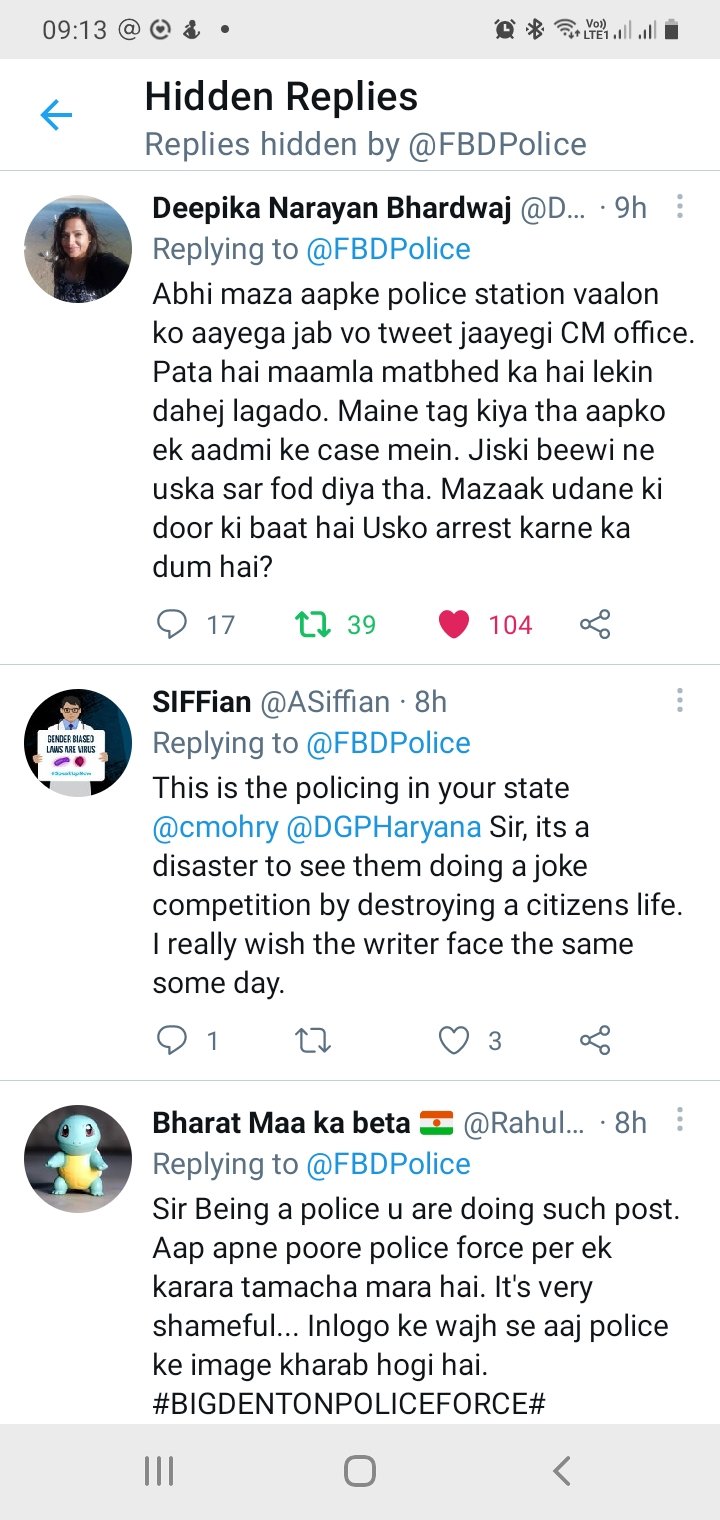 ALSO READ – 
Join us on our Telegram, Facebook Group & Koo App