Hashtag #MarriageStrike has been trending on social media as Men run a campaign against draconian one sided and heavily biased women centric matrimonial laws in India. According to comments by most men who have participated in this trend,  the term "Marriage Strike" seems to be the only solution to protect the Human Rights of Men in India.
This campaign is in retaliation to yet another law (#MaritalRape) that could be passed in favour of wives – which may be used less, but misused to a great extent to dominate, dictate, threaten and extort husbands. 
One of the key arguments at court and feminists have been that they agree there is misuse of laws (particularly Section 498-A of the IPC), however, they do not even want to discuss and deliberate the tsunami of false cases that this gender biased law, based solely on the testimony of wife, could bring in. 
What is Marriage Strike?
The term "marriage strike" refers to a movement by Men in India educating young boys to keep away from the institution of marriage, as they could be targets and victims of emotional, mental, physical and financial losses from divorce following false cases.  
A perception that marriage is a financial disaster for Men in India, especially during divorce settlements, is generally believed to be driving the marriage strike phenomenon.
Myth Spread By Feminists
To counter #MarriageStrike trend, several feminists and pro women portals have penned endless tweets and blogs, labelling all Indian Men as Wife Rapists, merely because they are opposing and debating such a biased law.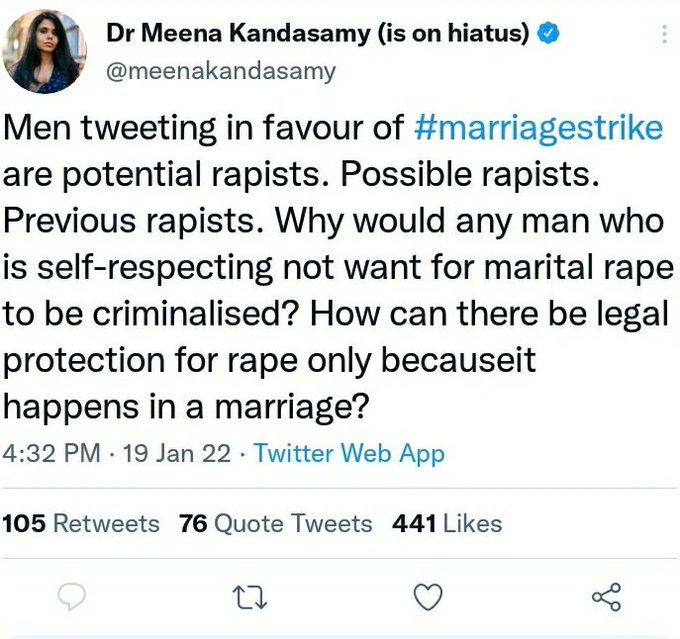 Dr Meena Kandasamy had levelled several charges against her husband on twitter sometime ago. Here is the husband's side of the story:
In reality, if Men are against #MaritalRape law, it does not mean they have any license to rape their wives. The angst and backlash is because most of them have faced severe consequences due to false cases by their disgruntled wives – be it false dowry case, false domestic violence case or even false POCSO accusing husbands of sexually exploiting their own children (to deny child custody). 
As per law, police needs to register any criminal complaint received by the woman against her husband and in-laws. Investigation is secondary, and then it takes years and decades for Husbands to prove their innocence. Several men have seen their own parents dying by suicide or passing away due to harassment and trauma of false police cases. 
The system has armed only and only wives, not even sparing old mothers/fathers, aged grand-parents or married/unmarried sisters of husbands and husbands of married sisters as well. 
Men have lost jobs, careers, respect, dignity, custody of children on mere complaints by vicious wives. Despite cruelty being proven at courts, Men are compelled to cough up huge sums of money in Alimony, irrespective of duration in marriage. Whether a woman is married for a day or for several years, she is entitled to lifelong maintenance from her husband, even if she chooses to file a frivolous case, walk out in adultery and live separately. 
Petitioners in the PIL and feminists in general are comparing 100 other countries to push another biased (#MaritalRape) law, but, what they don't tell you is that every single law in those countries is Gender Neutral. While a man in India does not even have a basic Gender Neutral Domestic Violence Law in his favour, and on the other hand feminists keep pushing endlessly for more and more tools of mental and financial harassment to men.
If anyone says "Lets discuss misuse of laws on another day"…he/she is only mocking the misery of several families that have been ruined thanks to; 1) politicians playing gender card and; 2) feminists advancing their motives to keep the legal extortion system running. 
Men will SPEAK UP, Men will VOICE their opinions. Sorry, it does not label them as Wife Rapists. For far too long, women empowerment activists and motivated groups has ensured to tag every man – who has an alternate opinion to feminism – as misogynyst or sexist. But this time, Men will make themselves heard LOUD & CLEAR. #MarriageStrike
Here are some of the tweets that have been trending:
Please read all articles below to understand what Married Men in India are already facing due to Gender Biased Laws. & NO, these are not one off cases
Join the campaign with hashtag

#MarriageStrike

& #MaritalRape

on Social Media
How All Violence Is Forgotten By Wives, Once Money Is Received –
MARRIED MEN DIED BY SUICIDE 2.5 TIMES MORE THAN MARRIED WOMEN IN INDIA (2020) –
ALSO WATCH –
#Bhopal

 | Working Woman Files Maintenance Case Against Ailing Husband Suffering From Cancer
Marital Rape Debate | Prejudiced NDTV Anchor Barkha Dutt Shuts Down Other Side
Join our Facebook Group or follow us on social media by clicking on the icons below
Donate to Men's Day Out!
Blogging about Equal Rights for Men or writing about Gender Biased Laws is often looked upon as controversial, as many 'perceive' it Anti-Women. Due to this grey area - where we demand Equality in the true sense for all genders - most brands distance themselves from advertising on a portal like ours.
We, therefore, look forward to your support as donors who understand our work and are willing to partner in this endeavour to spread this cause. Do support our work to counter one sided gender biased narratives in the media.
To make an instant donation, click on the "Donate Now" button above. For information regarding donation via Bank Transfer, click here.