The state of Gujarat has been receiving torrential rainfall since past week. Vadodara is limping back to normalcy after surrounding areas in central Gujarat were pounded by heavy rains for the past few days.
Most parts of the city remained flooded till Thursday night in spite of intensity of rain decreasing, as waters of the Vishwamitri river started entering the city as it breached its banks. Amidst stories of havoc and destruction coming from many parts of the city, a video of a policeman carrying a baby girl on his head has gone viral.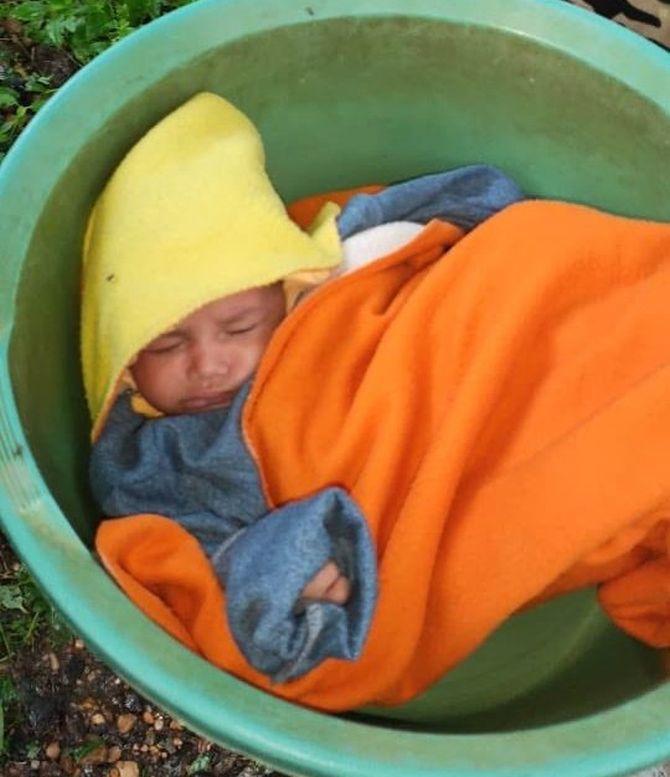 Police sub-inspector Govind Chavda rescued a one-and- half-year-old girl from Devipura locality near Vishwamitri railway station by carrying her on his head through neck-deep water in the wee hours of Thursday.
He told the media, that a police team rushed to the spotland and urged everyone to move to safer places. Adding further he said,
I and other members of the team had to walk through flooded roads to reach Devipura. We tied a rope to a pole so that people could move by holding on to it as the water was neck-deep.
He also narrated how he used his presence of mind to transfer the toddler to a secure place. Sub-inspector Chavda said,
We learnt that a baby girl and her mother were trapped in a flooded house. I asked the woman to give us a plastic tub because it was difficult to place the girl on my arms safely.
We put some clothes and a bed-sheet in the tub and put the child in it. I placed the tub on my head and walked through five feet-deep water for 1.5 km to take her to a safer place. The mother was also rescued.
WATCH VIDEO
The city received an unprecedented 499 mm of rain in 24 hours till 8am on Thursday morning. However, the situation was far better on Friday morning.
NDRF teams were still undertaking rescue operations in the flooded and low-lying areas of the city. Five people died and over 5,700 were evacuated on Thursday.
Another footage of a crocodile swimming in city floods also went viral.
WATCH VIDEO BELOW
ALSO READ –
https://mensdayout.com/his-story/dr-ganesh-rakh-pune-save-the-girl-child/