The dreadful Nirbhaya gang rape in Delhi in 2012 had sent shivers not just across the country, but globally as well. India was slammed and termed as the 'Rape Capital' by worldwide media and all eyes were closely watching how the country dealt with the rape accused from hereon!
While every single citizen wanted the strictest punishment for the rapists of Nirbhaya, the grim situation also led to a very serious flip side. In the wave of 'No mercy for rapists', many innocent men and boys started to fall prey to false cases as well.

How Was the Rape Law Sharpened Post 2012?
The horrific Nirbhaya case led to various amendments in India's rape laws almost overnight, making laws stricter and punishments more severe than ever before
Burden of proof shifted on the accused and testimony of woman alone became sufficient for conviction
While the laws were strengthened to address the menace of genuine sexual assaults posing threat to lives of innocent women and girls, this also gave rise to a new problem where some women started misusing the same to merely settle scores with the men in their lives.
These are not the words of a men's portal, but several verdicts by judiciary have spelt out how the system needs to tackle the rising abuse of rape laws. In several cases, women have been blackmailing men in exchange of huge sums of money.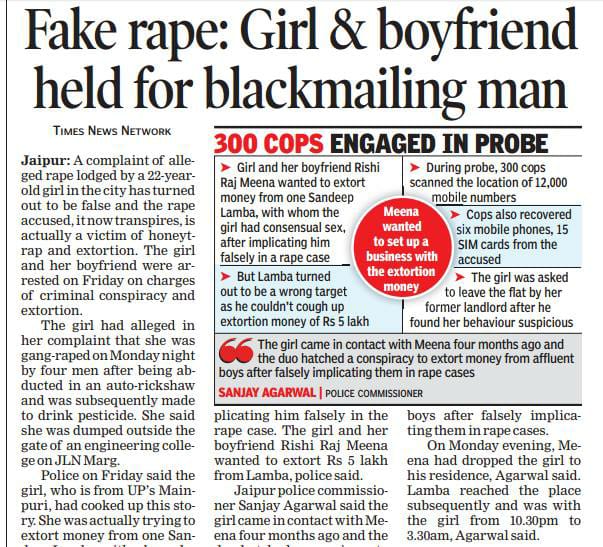 Upcoming Documentary
'India's Sons' is a feature length documentary film throwing light on lives that have been destroyed because of false accusations of rape.
From an 18 year old who spent 5 years in prison before being honorably acquitted to a 70 year old who took his own life because of mere statements ruining his goodwill of years
From an activist who saved animals but got falsely accused of ravishing a woman to an IPS officer who became a victim of a false accusation due to politics
From a man who was one of the several men accused of rape on promise of marriage by the same woman to a man who got falsely accused of gangrape twice by the same woman
The film exposes deep flaws in the system, absolute disregard of rights of one gender in order to protect the other, unbelievable lies that are told with elan in courts and hopelessness that looms over people who are falsely accused.
The documentary is a well researched piece which brings you a first person account of men and families who bore the brunt of being called a 'rapist and a rapist's family'; only to be eventually honorably acquitted of the said crime after years of trial on basis of credible evidence proving beyond doubt that they were falsely accused.
Directed by Deepika Narayan Bhardwaj and Neeraj Kumar, the documentary has been produced by Shonee Kapoor of the Sahodar Trust and True Filter Films. While Bhardwaj (Martyrs Of Marriage Fame) is a noted independent journalist who has been actively fighting against the misuse of women centric laws, Neeraj wore the editor's hat for Martyrs Of Marriage which was based on the misuse of IPC 498A. Kapoor is a legal consultant aiding and assisting several men suffering from the misuse of Matrimonial laws in India.
The film brings out voices that matter, facts that are shocking and tales that are moving. This is going to be truly 'a tale of false rape case survivors'.
WATCH TRAILER
You May Wish To Crowd Fund The Above Documentary By Clicking Here
We have been reporting several rape cases where the courts have pronounced the accused as innocent and we hope this documentary can be an eye opener for many men and their families who could be subject to such false stripping of dignity in society.
YOU MAY ALSO WANT TO READ :
https://mensdayout.com/health-lifestyle/karan-oberoi-rishton-ka-vyapaar-song/
https://mensdayout.com/in-the-law/bombay-high-court-amit-shelar/
https://mensdayout.com/in-the-news/three-women-arrested-for-extorting-money-jaipur-businessmen/
https://mensdayout.com/in-the-news/ias-officer-gaurav-dahiya-suspended/