Rajasthan ranks first among the states with the highest number of 'recorded' rape cases as per the latest National Crime Records Bureau (NCRB) data. In only one year, the state has seen a total of 5,997 cases in 2019.
In 2017, the rape cases recorded were 3,305, and in 2018, the number was 4,335. The rate of increase in rape cases between 2018 and 2019 has almost doubled to 4.2% — from 2.4% between 2017 and 2018. Meanwhile, Jaipur has been recorded as one of the most unsafe cities for women in India with 517 rape cases
in 2019 alone.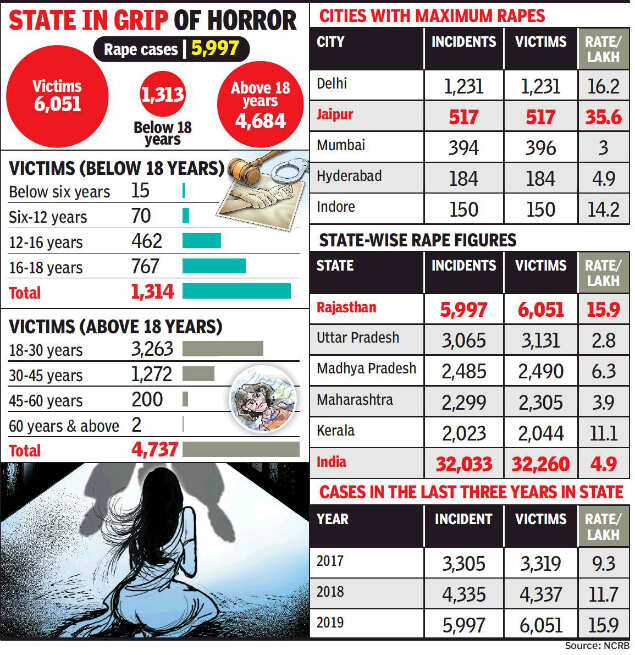 Rajasthan Director General of Police (DGP) Bhupendra Singh Yadav spoke about this disturbing trend and alleged that 'internet' and 'curiosity' has played an important for the same. Yadav, in his interview, explains that youth and especially the girls, need to be taught about 'confidence-building' and 'ways to prevent' such incidents.
The senior official also speaks about the flaw in our laws, wherein consensual sex between minors can also be registered as rape, if something eventually goes wrong. He quoted,
I have observed an increase in the number of rape case in North India. There are special reasons behind it such as the rising population of the young generation, unemployment and imitating pornographic activities available on the internet.
Rise in False Rape Cases
Rajasthan DGP has opened up about the rapid increase in false rape cases in the country. He states how the law for such a horrific crime is being misused by several people to settle family disputes.
He quotes,
Cross rape FIRs are filed by families to settle property matters.
He also added,
We've been explaining to people that one false case results in casting doubt on genuine cases as well. Real cases of victims get discredited due to several false cases filed for ulterior motives. This is an important matter that needs our attention.
In the last week of September, Yadav has also sought retirement through VRS and could become Rajasthan Public Service Commission (RPSC) chairman.
WATCH VIDEO:
Last year, in an exclusive interview to TOI about what ails society specifically in relation to misuse of rape laws, retired Bombay high court Judge V M Kanade called for a revamp in criminal law for the handling of certain types of rape cases.
Justice Kanade then quoted:
It is perhaps time to effect a change in law or to clarify the existing position in respect of procedure followed in rape accusations that are made essentially on the premise that there has been a breach of promise to marry, promise on which consent to get into a physical relationship was granted.
Justice Kanade promptly pointed out,
Let one thing be immediately clear. I am speaking only of cases which are either filed after a substantial delay or after a relationship which may be on and off has ended sourly, often involving an allegation that consent… was given on promise of marriage.
In a bold suggestion, Justice Kanade also said,
In such types of cases, the Supreme Court's judgment in the Lalita Kumari matter perhaps needs to be revisited. The judgment says once police are informed of a cognizable offence, they are bound to register an FIR and have no other option. But when it comes to certain complaints of rape, either after substantial delay or in the case of a relationship which ended with complaint of consent under promise of marriage, it may merit a preliminary enquiry by the police to verify.

This would be as is sought in cases of cruelty to wife under Section 498A of the IPC where the SC accepted possibility of abuse and directed that police first verify.
ALSO READ –
https://mensdayout.com/in-the-news/alleged-false-rape/false-rape-cases-india-10/
https://mensdayout.com/in-the-news/complaint-against-bengaluru-woman-false-rape-charges-bankers/
https://mensdayout.com/in-the-news/false-rape-cases-india-21/
https://mensdayout.com/in-the-news/delhi-woman-false-gang-rape-bus/
We are now on Telegram. You can also join us on our Facebook Group