The Defence Research Development Organisation (DRDO) announced the scholarship programme 'Exclusively For Girls' for the Post Graduate (PG) and Undergraduate (UG) programmes. The scholarship will be provided in the subjects of Aerospace/ Aeronautical Engineering, Space Engineering and Rocketry/ Avionics/ Aircraft Engineering.
The girl students will get a scholarship upto:
Post Graduate programme : Rs 1.86 lakh per annum (Rs 15,500 per month)
Undergraduate (UG) : Rs 1.2 lakh per annum
While one can say this is yet another step towards empowering woman, does this also not imply a bias against boys who are equally capable and may not be able to afford the same? A constant argument on Gender Equality in society commands bringing girls on par with the boys. However, in the process, we as a system are somewhere making the male gender irrelevant and also unimportant.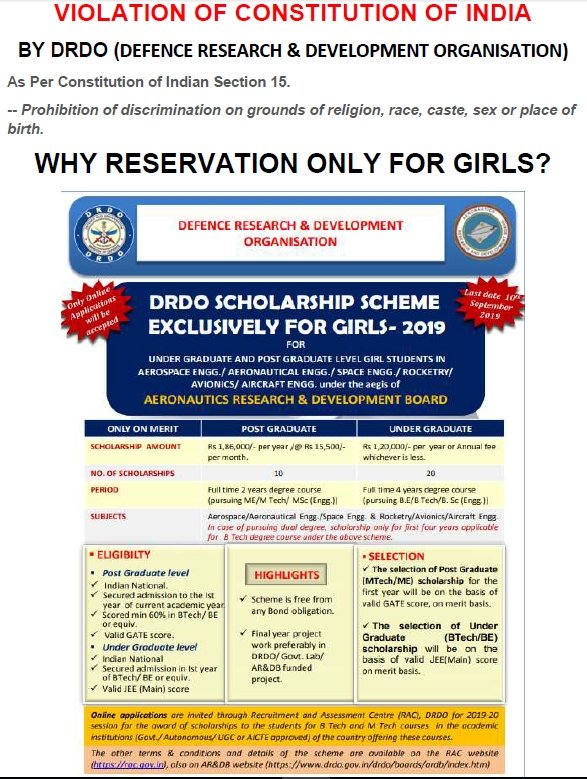 Mens Rights Activists have written a letter to the highest authorities in India questioning why is the reservation not extended to boys equally? They have also quoted Article 15 on the constitution which clearly reads:
Prohibition of discrimination on grounds of religion, race, caste, sex or place of birth
VIOLATION OF CONSTITUTION OF INDIA BY DRDO @PMOIndia @RashtrapatiBhvn @narendramodi @RahulGandhi @rsprasad @HMOIndia @Swamy39 @rajnathsingh @VijayGoelBJP @arunjaitley @HRDMinistry @PRSLegislative @smritiirani @madhukishwar @ReginaDulanjali @toi_dhanajayM @ndtv @News24 @aajtak pic.twitter.com/aEUP8P9pqX

— MyNation Foundation (@MyNation_net) August 8, 2019
The argument is not against supporting girls in the mainstream education, it is about promoting inequality and absolute gender bias against the boys. If the scholarship needs to be provided, it should be on 'merit for any gender' who is unable to afford despite his/her calibre. Promoting freebees to only one gender is sheer hypocrisy while striving for balancing equality. In a reverse case, this will be promptly termed as Human Rights Violation.
Below are further detail with regards to the program:
Educational qualification:
For the Undergraduate programme, the students need to secure admission in the first year of B.Tech/ BE or equivalent
To be eligible for the Post Graduate (PG) admission, the candidates need to secure a minimum 60 per cent marks in Bachelor of Engineering (BE/ B.Tech)
Selection process:
The selection of Post Graduate (MTech/ME) scholarship for the first year will be on the basis of valid GATE score, on a merit basis
The selection of Under Graduate (BTech/BE) scholarship will be on the basis of valid JEE(Main) score on merit basis
How to apply:
The online application process has started on July 25. The candidates can apply till September 10 through the website drdo.gov.in
The scholarships are limited to 20 for under graduate and 10 for post graduate students pursuing their respective degrees at the academic institutes
ALSO READ –
https://mensdayout.com/in-the-news/private-school-australia-issues-warning-to-quarreling-couples/