Respect All Women! We have surely come across this quote almost everywhere – either being promoted by women rights NGOs, organisations, officials in uniform, journalists and almost by everyone on social media. However, while respecting one gender is supreme, taunting or abusing the other gender (Men) becomes hilarious and comical.
One such video that went viral over Twitter today, demonstrates the mindset of our society, which is so hypocritical when it comes to dealing with respect for wives Vs respect for husbands. The example we are sharing below is not aimed at any individual in particular, but to project how such tones by wives have been normalised for married men.
Video:
A video featuring leading doctor and Padma Shri Award recipient Dr KK Aggarwal has gone viral on social media. In the video, the doctor is speaking during an online live session after taking the coronavirus vaccine. As he speaks, his phone rings and he attends the call. It is his wife on the other end who starts asking him about his whereabouts.
The doctor goes on to tell her that he just got vaccinated, but the wife loses her calm and gives him a dressing down for getting vaccinated without her. The husband tries to pacify his wife by saying that he will take her for vaccination on Monday morning, however, she refuses to listen. Despite alerting his wife that he was amidst a live session, the woman gives him an earful before he hangs up. She quotes,
Main Abhi Live Aa Ke Tumhari Aisi Ki Taisi Karti Hoon…(I will be come live right now and give you a good one)
WATCH:
Leading Doctor KK Agarwal got #COVID #Vaccination without his wife. He got a call from her while on Live TV….and then….

"Main Live Aa Ke Tumhari Aisi Ki Taisi Karti Hoon…"#VaccinationDrive pic.twitter.com/yqgGX3OoN1

— Men's Day Out (@MensDayOutIndia) January 27, 2021
Instantly, twitter went into splits normalising, mocking and giggling at the man because of his personal situation revealed on social media. Importantly, it was not just random handles who were enjoying the moment, but also responsible verified handles from various fields adding to the humour…..or as we would term it….apathy for a married man!
It is important to share that Dr KK Agarwal did put out an explanation video via his Facebook account passing it off as 'concern' by wife and her reaction when he took the vaccine. He has also shared a note on twitter asking all to take the vaccine.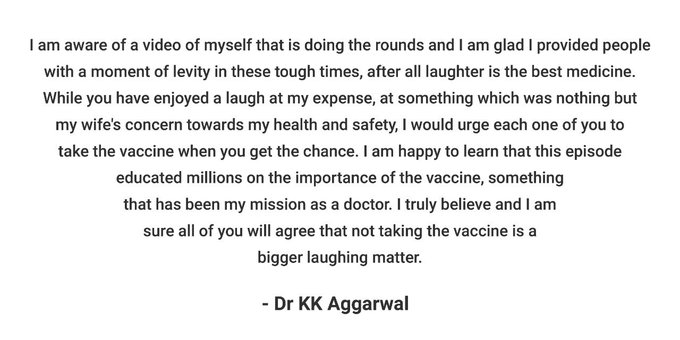 #GetVaccinated #COVID19 pic.twitter.com/M5KQNyUNJh

— Dr K K Aggarwal (@DrKKAggarwal) January 27, 2021
As we mentioned above, it is not about this couple in particular, however, normalising of such words and comments by wife to her husband. One can imagine the ire a husband would have faced over social media, if he was caught exclaiming exactly the same words to his wife as seen in the above video.  Digital patriarchy warriors would have lynched him and ensured he would be fired from his job next morning.
Why are all rules of respect only limited to women? Has it become fashionable to mock men in the name of feminism and empowerment? People who do so, do not think or realise for a minute, how several men across India and the world in general, are suffering abusive marriages in silence. It is because of 'normalising' such situations or making it sound 'funny', Men never emote the humiliation they swallow on a daily basis in their personal lives.
Phrases like "Women are always Right", "Husbands should always say Galti Meri Hai if they want to live happily", etc. constantly make Men believe that they must pretend to look like jokers and puppets of wives, if they want to maintain an image of a Good Husband in society. If they retaliate to honour their respect, they are labelled as patriarchal, wife beaters and someone who flaunts their toxic masculinity.
It is extremely shameful that, as a society, we encourage the dominance of a wife over her husband as progressive, while we do not fail to strip off a man of his respect and dignity if he dares to even put across an argument with his wife. The latter in today's hypocritical social media world becomes 'sexist' and 'misogynyst'.
Here are some of the reactions on twitter towards this video:
Doctor KK Agarwal got himself vaccinated without his wife.

Note to self : don't ever pick-up phone while you are live on tv 🙂
#forwarded. pic.twitter.com/uhIQYvZ4IO

— Tarun Shukla (@shukla_tarun) January 27, 2021
Hugs to Dr. KK Agarwal! Really feel for him☺️ https://t.co/n5PfmlT8ZP

— Sayema (@_sayema) January 27, 2021
She's right though 😐

— Zainab Sikander Siddiqui (@zainabsikander) January 27, 2021
All wives are same only. His silence after the phone got cut is a normal morning in every household 😂

PS- Prachi should skip town for a few days https://t.co/WSbnYnEmyc

— Nupur J Sharma (@UnSubtleDesi) January 27, 2021
You made a specimen out of him 😷

— Wg Cdr Anuma Acharya (Retd) (@AnumaVidisha) January 27, 2021
मशहूर फिजिशियन डॉ. के.के अग्रवाल अपनी पत्नी को भूलकर खुद वैक्सीन लगवा ली…
फिर जो हुआ, वो स्वाभाविक ही था…😂😂#JustForLaugh. pic.twitter.com/ujnif36mIw

— Dipanshu Kabra (@ipskabra) January 27, 2021
मेरे सेक्रेट्री का नाम बाबू सवप्नेश्ववर प्रसाद है. प्राची नहीं 😂 https://t.co/W6QwxLxqnN

— Arun Bothra (@arunbothra) January 27, 2021
जब कोरोना वैक्सीन लेने जाएँ तो अपनी पत्नी को साथ लेकर जाएँ अन्यथा वो 'लाइव आकर आपकी ऐसी की तैसी' कर सकती हैं।😂

डाक्टर अग्रवाल के अनुभव के आधार पर WHO को इस मामले में भी गाइडलाइन जारी करनी चाहिए।😜

सॉरी डाक्टर अग्रवाल, WA पर आया तो कंट्रोले नहीं हुआ। आप तो हृदय विशेषज्ञ हैं। 🙏 pic.twitter.com/5jrwaCt4sf

— Umashankar Singh उमाशंकर सिंह (@umashankarsingh) January 27, 2021
Doctor KK Agarwal got himself vaccinated without his wife.😊

Reference:K. K. Aggarwal
Padma Shri
Dr. B. C. Roy Award
National Science Communication Award
Vishwa Hindi Samman
Gold Medallist and Limca Book of Record Holder in CPR
President of the Heart Care Foundation of India.🙏 pic.twitter.com/FzlWSpoQqi

— Awanish Sharan (@AwanishSharan) January 27, 2021
Oops 🙊😊

— Amrrita Dhawan (@AmritaDhawan1) January 27, 2021
Okay, am I the only one wondering who Prachi is? And I did my research too:https://t.co/FEnkyn2zry https://t.co/x4amRMNbE9

— Deepu (@deepusebastian) January 27, 2021
That's gotta be the funniest thing I saw this month 😂😂 stay strong Doc !! https://t.co/3SaZ4DqUXS

— INJESTERS (@rockyandmayur) January 27, 2021
Joke of the month award goes to Dr. KK Agarwal. https://t.co/1cGYYop581

— Faiz Ul Haq (@faiz_haq) January 27, 2021
Getting vaccinated without your spouse could be costly 🤪 https://t.co/wj0tbNMpD4

— Alina Shigri (@alinashigri) January 27, 2021
Ouch ouch .. 🤦‍♀️ only positive spin of this story is there is no space for anti-vaxxers in India:) https://t.co/VVYNBQyV7L

— Sunanda Vashisht (@sunandavashisht) January 27, 2021
I feel for the poor guy. 😕

But honestly, can't stop laughing. Not without a reason I never pick up my phone when live on TV. Better safe than sorry. 😎😂 https://t.co/OX4363qWKj

— Yashwant Deshmukh 🇮🇳 (@YRDeshmukh) January 27, 2021
What happened to Dr Agarwal is a warning for everyone.

Do not pick up calls of your better half (irrespective of gender) while on a zoom call or live on any other platform. https://t.co/zIx3kCphgX

— Ankit Lal 🏹 (@AnkitLal) January 27, 2021
My empathies with Dr Saab https://t.co/MBFL0cYnAg

— Harjot Singh Bains (@harjotbains) January 27, 2021
Has anyone checked up on Doctor sb? https://t.co/QKofOGoEnS

— Alia Chughtai (@AliaChughtai) January 27, 2021
Hope the police don't book his wife for hurting the sentiments of the staunch Modi supporter.

That this renowned cardiologist wholeheartedly supported Diya-Thali events at the beginning of the pandemic and promoted the same to shoo away Coronavirus is a different story 🙂 https://t.co/OsRwM31jKg

— Kanchan Srivastava (@Ms_Aflatoon) January 27, 2021
Not exactly Mr Uxorious, this husband, berated here on live TV by his wife, for getting vaccinated without her. https://t.co/tRJnUym24l

— Tunku Varadarajan (@tunkuv) January 27, 2021
WARNING-NEVER EVER…NEVER EVER..NEVER EVER. BE CAUTIOUS WHEN U R LIVE …Baki ap khud video dekh ko:)))) https://t.co/hFuK68teu3

— Narendra nath mishra (@iamnarendranath) January 27, 2021
Good woman 😀💪🏾 https://t.co/NwdFUvBNGD

— Marvi Sirmed (@marvisirmed) January 27, 2021
WATCH VIDEO:
Karan Thapar Interview (2006) With WCD Minister Renuka Choudhary (Domestic Violence Act)
ALSO READ –
https://mensdayout.com/in-the-news/kota-professor-commits-suicide-due-to-harassment-by-wife-mother-in-law/
https://mensdayout.com/in-the-social/sushma-swarajs-husband-swaraj-kaushal-tweets-air-marshall-story/
https://mensdayout.com/in-the-law/divorce-granted-to-husband-on-grounds-of-cruelty-uttarakhand-high-court/
https://mensdayout.com/in-the-news/domestic-violence/dgp-purshottam-sharma-wife-attacks-with-knife/
We are now on Telegram. You can also join us on our Facebook Group