A video of a woman motorcyclist in Cuttack refusing to pay a fine for not wearing a helmet has gone viral on social media. This has become a challenge for our police and transport departments since they stated enforcing new traffic rules, as many women are taking advantage of their Gender to defy the law and order in various states.
And then we have women waving the Gender Equality flag high!
Case:
On Sunday morning, a woman identified as Pritimayee Nanda of the city's Buxibazar area was stopped by the traffic police at Madhupatna square for not wearing a helmet while riding her two-wheeler
Nanda was asked to pay a penalty of Rs 1000 according to the amended Motor Vehicle Act
Instead of paying up, she picked an argument with the policemen saying she never wore a helmet in the past and would not do so in the future as well
In the video, the arrogant woman is heard saying,
If they want to seize the vehicle let them but I am not going to pay the fine at any cost. I don't want to wear a helmet because it's my choice. If I die, it is a loss to my family members and police have nothing to do.

Do what you can. If you want to take the keys of my vehicle take it and if necessary take me as well.
She also asked,
Do you want licence documents of the vehicle? Should I paste a licence on my body? The government makes several announcements but does it really follow [them]. Will the rules always be stricter like this?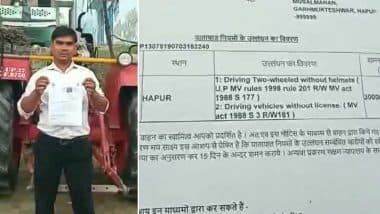 Cuttack's deputy commissioner of police (DCP) Akhileswar Singh however later confirmed that Nanda paid the necessary penalty eventually and left
The Odisha government started enforcing the norms under the MV act after a relaxation of three months on Sunday.
Government of India was compelled to bring in a stricter enforcement of MV Act in the backdrop of rising road fatalities in the last five years. Just in the state of Odisha itself, the numbers of casualties due to road accidents had gone up from
3931 deaths in 2014 to;
5315 or by 35% in 2018
And sadly, this misuse or egotism demonstrated by some women has been seen in other parts of the country as well. Read case at the end of the blog, where Surat Traffic Police actually went on record to say how they were wary to challan women drivers, due to fear of false allegations on Male Police.
WATCH VIDEO –
ALSO READ –
https://mensdayout.com/in-the-social/surat-traffic-police-not-issuing-challans-to-women-drivers/
https://mensdayout.com/in-the-social/men-will-be-fined-if-they-occupy-womens-seats-in-bangalore/
Join our Facebook Group or follow us on social media by clicking on the icons below
Donate to Men's Day Out!
Blogging about Equal Rights for Men or writing about Gender Biased Laws is often looked upon as controversial, as many 'perceive' it Anti-Women. Due to this grey area - where we demand Equality in the true sense for all genders - most brands distance themselves from advertising on a portal like ours.
We, therefore, look forward to your support as donors who understand our work and are willing to partner in this endeavour to spread this cause. Do support our work to counter one sided gender biased narratives in the media.
To make an instant donation, click on the "Donate Now" button above. For information regarding donation via Bank Transfer, click here.