Nearly after a week of the car park brawl at the Amity University, Noida Police has finally arrested three accused Mayank Tanwar, Chetan Rao and Shiv Kumar. The trio has been booked under stringent sections of rioting and criminal intimidation.
On Wednesday, police nabbed three students who are accused of beating up Amity students Madhav and Harsh on August 28. The police is interrogating all three of them to ascertain what exactly happened on that day.
Without undermining the role of the police, these arrests have come after many netizens launched social media campaigns demanding justice for the victims. Amity students also took out a rally on Wednesday to protest against the beating up of boys and pressed for a response from the university administration.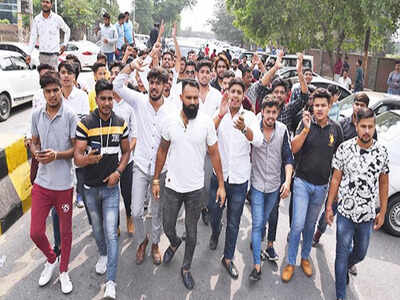 SP (city) Vineet Jaiswal said the three students were arrested because there was "strong evidence" supporting the  .. the claim that they had assaulted Harsh and his friends. He quoted,
CCTV footage shows Mayank, Shiv and Chetan arriving in a Skoda and Scorpio and assaulting the trio. They were interrogated and arrested later.
When the police was questioned about the woman's allegations, Jaiswal said that so far, the police had not received any clues from CCTV footage. The university, which has suspended 11 students in connection with the clash, termed it a "case of personal altercation".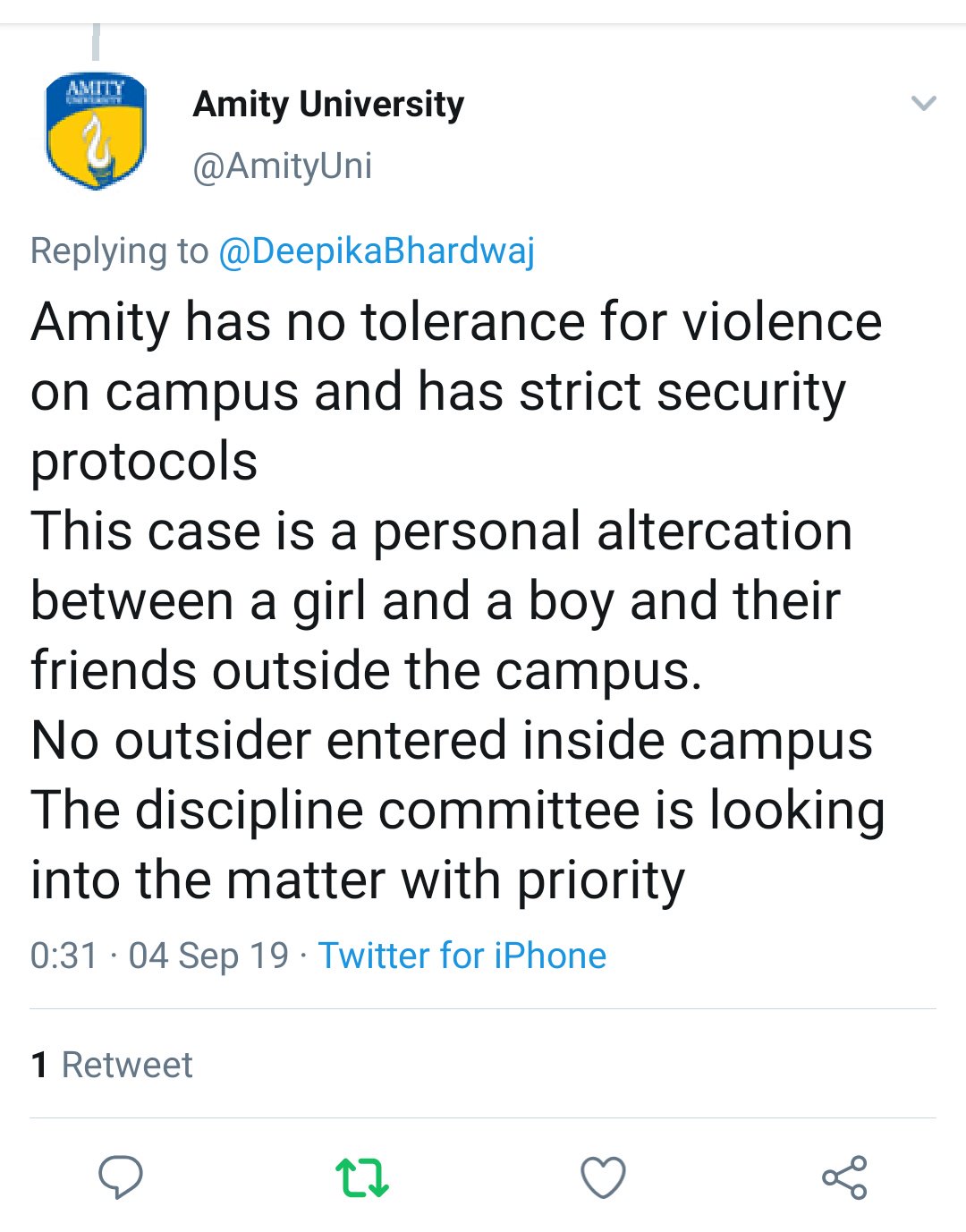 The online campaigns demanding justice for the two boys, in a way put lot of pressure on Noida Police following which they released a video statement yesterday. Jaiswal clarified that it was the duty of police to file an FIR whenever a woman registered a complaint of molestation. Jaiswal also emphatically said that FIR was only the beginning of any investigation and assured that law will take its due course.
After massive uproar over #AmityUniversity Case, @noidapolice releases a video:

"Whenever woman registers molestation complaint, it's duty of police to file FIR. This is only beginning of investigation. Boys are stable and in their homes now"#JusticeForMadhav #JusticeForHarsh pic.twitter.com/FnJ2rZtCYP

— Men's Day Out (@MensDayOutIndia) September 4, 2019
Later, SSP Noida also tweeted intimating the media that Noida police was pursuing this matter seriously and action had been taken based on investigations and merits of the case.
Action is being taken. This whole matter is being pursued seriously. Pls don't worry. Will ensure that both investigations are conducted on merits @dgpup @Uppolice @ANINewsUP @PTI_News https://t.co/CGNc1PwpNR

— SSP NOIDA (@sspnoida) September 4, 2019
SSP Noida also quoted that the rest who are accused will also be arrested.
Three of the accused in this case who had beaten up two boys in Amity University on Aug 28 have been arrested. Rest who are accused will also be arrested @dgpup @Uppolice @ANINewsUP @PTI_News https://t.co/bZdnE3PLBF pic.twitter.com/V4o7v9lvIv

— SSP NOIDA (@sspnoida) September 4, 2019
Case :
On August 28, several students of Amity University allegedly assaulted other students in Sector 125 where the varsity is located
The students who were allegedly beaten up were identified as Harsh Yadav and Madhav Chaudhary, both pursuing BA (Political Science)
According to the victims, the issue erupted following an argument with a girl over parking cars outside the campus
The victims later alleged that the girl with whom they had the argument called 25-30 boys to beat them up
After the victims lodged an FIR against the girl and others, the girl filed a cross FIR of molestation on the boys
While many netizens have appreciated police action, they are still demanding arrest for the girl who allegedly is the cause of this big campus fight.
Great move …kindly arrest that girl also who tried to kill these innocent souls.

— Ajay Ram Goswami (@kaafiroon) September 4, 2019
What about the Girl, who is master mind of this? Is there any special privilege for Girls given in law like attempt to murder also or she is some police officers or politican's beti? Sorry brothers of #amityuniversity #justiceformadhav or #justiceforharsh will be a dream only ?

— SwarupSarkar (@swarup1972) September 4, 2019
Sir, why hasn't the girl been arrested yet?

She is the mastermind to the crime for instigating violence and directing assault against the 2 boys.

Request for her immediate arrest and put her picture on Twitter, similar to these boys. #ArrestKommal #SuspendKommal

— Modern Gandhi (@ModernGandhi4) September 4, 2019
The girl is equally responsible,i hope you will arrest her2,she hs pressed false charges of molestation misusing her identity of being a female & hs provoked act of voilence which was lethal,she cant be spared,E.g. needs2 set#amityuniversity #justiceformadhav #justiceforharsh

— अरूणाक्ष भंडारी (@imarunaksh) September 4, 2019
Sir, job half done. Complete once you arrest the other goondas who barged in and allegedly also beat the teacher. Once investigation completes, hoping that the girl at the Center of the drama is also put behind bars for a day or two for lodging false allegations against the boys.

— Jaspreet Singh (@jaspreet20) September 4, 2019
@noidapolice thank you Noida police, specially Shri Malik ji, SHO, Sector 37, Shri Vineet Jaiswal ji IPS, for this action.#justiceformadhav #justiceforharsh finally it happened, #amityuniversity case is moving towards a logical legal track now. My confidence is restored. Thanks

— Rajnish Sharma (@rajnish1Midas) September 4, 2019
READ ALL CASE DETAILS BELOW –
https://mensdayout.com/in-the-news/amity-noida-car-park-case/